Mark your calendar for Earth Day, shoot hoops with Senior Basketball, immerse yourself in Van Gogh in Sarasota, hear what ClubLink is planning in the community, catch up with residents who won ribbons at the state fair, learn why you should attend the Long Range Planning focus groups, see winning shots from the photo club competition, meet "Mr. Fountain," get to know a Resident of Distinction, cruise by the Clearwater Sugar Sand Festival, reminisce with a local radio star, make some local Family Connections, hear football stories from real "Troopers," and go Full Throttle with "Lites" Leenhouts.
And, be sure to check out the SCCCA Club News, Kings Point News, Military News, Sports, Arts, Faith & Service, and Community News sections to help you plan your month.
Read the April 2022 Issue of The News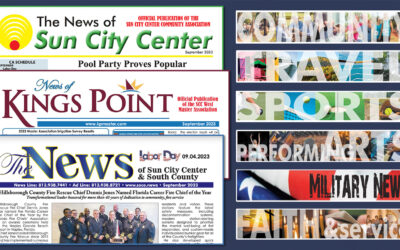 In this issue… Have some Pool Party fun, celebrate with the History Society, register for the Active Life Games, see why local volunteers rock, go Trail Blazing, learn why a local fire chief received a lifetime honor, support Adaptive Sports,...