Explore the myriad of opportunities in the community through FunFest, marvel at the wonders created for the Stained Glass Show, swashbuckle with the History Society, save the date for shredding day, catch up with the Long Range Planning Committee, learn how to Prevent Crimes and Fight Scams, see Diamond Lil at 60, honor the Woman of the Year, find out why the library is the latest and greatest, gather with the Savannah Sipping Society, join the Audubon Club for a nature festival, make some Community Connections, learn about a Family's Connection to SCC, discover why volunteering is the heart of this community, see St. Augustine from a New Perspective, and meet some new and interesting neighbors…
Then be sure to check out the Club News, Kings Point News, Military News, Sports, Arts, Faith & Service, and Community News sections to help you plan your month.
Read the April 2023 Issue of The News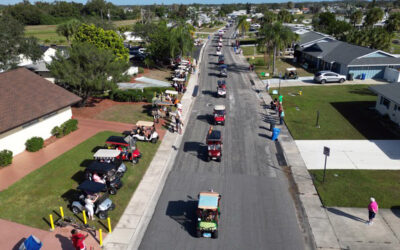 Golf Cart Parade Kicks Off Holiday Season By Kai Rambow There may have been fewer golf carts participating in this year's parade, however, those that entered put a lot of thought into their decorations.  It was fun to see the creativity put into...