Artwork Even Your Toddlers Will Understand
By  Andrea L.T. Peterson
Back in 2008, "people thought it was a horrible neighborhood, but I thought it was a diamond in the rough," says Mary Lee, founder and owner of the acreage in Sarasota where the Marietta Museum of Art and Whimsy now stands. It could now be said that the museum itself is the crown jewel of the neighborhood! A fascinating indoor museum and outdoor sculpture garden, the museum is one of a kind.
Lee wanted to bring "artwork that the general public could understand. They could just go in and enjoy it." If the sculpture gardens are any indication, I'd say she's achieved her goal. We first went to visit the museum the very day it closed for what is now the duration of the COVID season. I've yet to tour the museum itself.  We never suspected it, and much of our world would shut down for more than a year! But we were able to enjoy the sculptures. I returned again, a month or so ago—still closed—but I was able to photograph more of the sculptures in the garden behind the museum itself.
The good news is that the museum had a "soft opening" from 1 to 2 p.m. on November 27. What that means is the gardens will be open and mask wearing visitors will be able to enjoy all of the sculptures, the enhanced landscaping, and the general whimsical ambience for an afternoon. The following week, they will resume "regular hours—" Thursday-Saturday from 1-4. On that Saturday, December 4, they will host a cookie exchange: bring two dozen, take home two dozen. For the safety of the all-volunteer staff and other visitors, guests will be required to wear masks until further notice as well as vinyl gloves during the cookie exchange.
The gardens are a delightful adventure for the entire family. This is flaming-o-holic heaven with many great flamingo sculptures waiting to be photographed with you! See the photos for a more broad view of what you'll find.
 There is plenty of parking and the grounds are ADA accessible. There is no café or on-site retail store. Pictures may be taken—with cell phones only out of respect for the artists whose livelihood depends on their artwork. The Marietta Museum of Art and Whimsy is located at 2121 N Tamiami Trail in Sarasota.
 "Just go in and enjoy it!" No explanation necessary!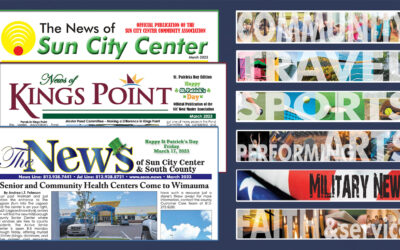 In this issue… Check out FunFest on March 11 and Sun 'n Fun on March 28, find out about the latest scams on March 9, stroll the Bluebird Trail, thank Claudia Hinson for years of outstanding service to the community, learn about Seniors in...