Get to know the Photography Club, see how SCC celebrated Independence Day, get updated on the ongoing SCCCA building projects, catch up with some talented local crafters, meet some community volunteers, find out how people are working to protect endangered animals, take a road trip to Buc-ee's, get a Lifeline from the Men's Club, meet a talented local athlete, take a Deliberate Detour to Palatka, catch two unique shows at Selby Gardens, and cruise over to the Tiki Docks for Something New and Different.
Then, be sure to check out the SCC Club News, Kings Point News, Military News, Sports, Arts, Faith & Service, and Community News sections to help you plan your month.
Read the August 2021 Issue of The News
To read in FULL SCREEN, hover over the image, then click on the rectangle in the bottom right corner of the frame.
COVID-19 Vaccine Info
Florida hospitals and county health departments have received hundreds of thousands of vaccine doses. More are coming. Learn how these will be distributed and get more information at the Florida Department of Health website, "floridahealth.gov."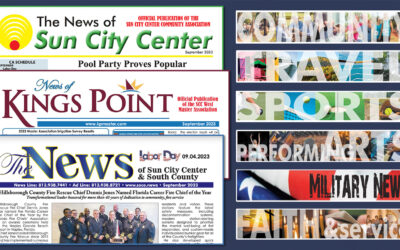 In this issue… Have some Pool Party fun, celebrate with the History Society, register for the Active Life Games, see why local volunteers rock, go Trail Blazing, learn why a local fire chief received a lifetime honor, support Adaptive Sports,...