Relive the fun of the Pancake Breakfast and the Pool Party, make some Community and Family Connections, see how local Sew'n Sews are helping our community, get Shell Craftin', celebrate the music of Bob Dylan with the Pickers, learn what some local givers are doing to help those in need in Ukraine, clean up with Strong Salt, meet some volunteers helping homeless pets find families, steer clear of the alligators, discover some Legends of the Wild West, and take a Pickleball Journey.
Then be sure to check out the Club News, Kings Point News, Military News, Sports, Arts, Faith & Service, and Community News sections to help you plan your month.
Read the August 2023 Issue of The News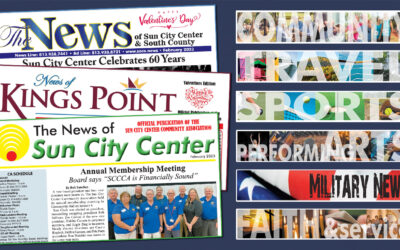 In this issue… Meet the new SCCCA board, enjoy amazing images created by Photo Club members, celebrate 60 years of SCC, jam with the Kings Point Music Makers, grab your calendars to fill with February festivals… Enjoy a Casual, Comfortable...