The 2020-21 school year begins on August 10, 2020, and the Wimauma Boys & Girls Club needs your help! They are now accepting school supplies through Monday, August 3, 2020.
Collection sites include:
Sun City Center United Methodist Church
1210 W. Del Webb Blvd.
Sun City Center Emergency Squad
720 Ray Watson Dr.
Please see flyer below for a list of needed school supplies, thanks!
School supplies needed include but are not limited to: black, blue, and red ink pens; blunt-tip scissors, glue, both bottles and sticks; colored pencils (erasable please); disinfectant wipes and hand sanitizer; dry erase markers; erasers; highlighters, pencil pouches or cases; pencil sharpeners; pencils; pocket folders (pronged); rulers; spiral notebooks; tissue boxes; and wide-ruled notebook paper.
This effort is in conjunction with the Hillsborough County Sheriff's Office.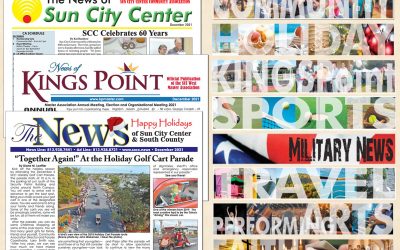 In this issue… Ring in the December holidays with the annual Golf Cart Parade, celebrate 60 Years of SCC, set sail on America's Tall Ship, get to know some local clubs, remember a tireless volunteer who made a big difference, meet a local war...