Buc-ee's – Road Trip Destination
By Kai Rambow
It is Texas-sized, making it a destination in itself.  Buc-ee's is well known in its home state, and has recently expanded into Florida, Georgia, and Alabama.  It's a fun, worthwhile stop.
What's Worthwhile
I can only make a few recommendations here.  This gas bar/convenience store is well over 10 times the size of a Wawa with over 100 gas pumps.
You can get an extra-large drink for only 79 cents. Beside the typical sodas, there are other drinks, including iced tea. This has to be one of the best deals anywhere.
Hot sandwiches are, for the most part, well-liked. A hot brisket sandwich is very popular.  BBQ lovers have claimed not to rave about this, while others stated it's good.  I tried a pulled pork BBQ sandwich, which was tasty with a melt in your mouth quality.
Buc-ee's potato chips, called Beaver Chips, are so popular I couldn't get any.  Trying to order/coordinate some with your ready-to-go sandwich may require some advice from staff.  I did get a good bite to eat.
Gas prices were competitively priced, and Buc-ee's had the biggest and cleanest set of restrooms I've seen on the road.
What's Not Worthwhile
If you love Wawa's coffee, you'll be disappointed. The taste and variety of choices was just okay. Please note the risks I take for you.
The selection of snacks is overwhelming. Many of the snacks are Buc-ee's products and have been reviewed as too sweet or too spicy and a little pricey.  If you have a really sweet tooth you might enjoy trying something, otherwise you might want to skip.  It was fun to take a quick walk and check everything out.  Suggestion: You might want to select something you would normally get to do a true comparison.
Where to Find
The two locations in Florida are off I-95. If you're doing a road trip in that direction, I-4 is mostly clear of the never-ending construction. I cruised right through on a recent trip, in both directions.
Shortly after connecting to the I-95 North, at exit 265 (Daytona Beach) you'll find the Buc-ee's.  Take the exit, turn right, then look to turn left at the next set of lights.
Just past St. Augustine, at exit 323, you'll find the other Buc-ee's.  Take the exit and turn left.  After crossing the interstate, you'll see the store on your left.
Heading north on I-75 in Georgia, just south of Macon, you'll find a Buc-ee's.  It's exit 144 (Fort Valley) on your right.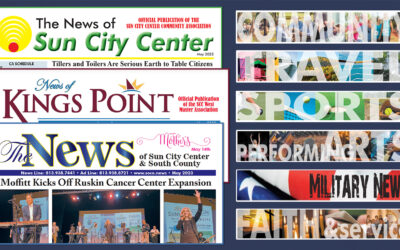 In this issue… Learn about the Moffitt Cancer Center kickoff, get an update on the Waterset Sports Complex, improve your green thumb with the Tillers and Toilers and the Elegant Gardeners, sail with the Cygnet Yacht Club, save the date for the...