On July 1, SCCCA President Sam Sudman resigned, effective immediately, citing personal reasons. Sam has done quite a lot for this community; so, if you have a chance, reach out to thank him for his years of dedicated service to SCC.
The CA Board met on July 2 and elected Director Bob Sullivan as President to finish out Sam's term, which ends January 6, 2021.
In the photo: County Commissioner Sandra Murman presents Sam Sudman with the Outstanding Volunteer Leadership Award in 2017. (News file photo)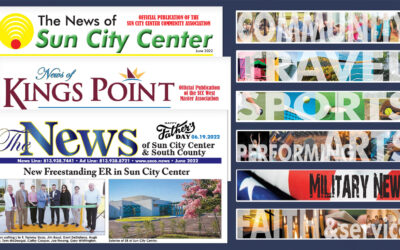 In this issue… Discover a new ER in SCC, meet the new SCCCA director, celebrate with Cygnet, commemorate Earth Day, take a low and slow balloon cruise, marvel at the world's largest flamingo, catch up on Entertainment News, save the date for...