Celebrate The Opening Of SCC
A Special Invitation From The History Society, December 30
By Ilona Merritt
"Time flies when you're having fun" … It seems like just yesterday that SCC celebrated our 50th anniversary. And what fun we had! Now, ten years later, we are celebrating another milestone. Sixty years in Sun City Center. The History Society invites our neighbors to help us celebrate the anniversary of the opening of Sun City, which falls on December 30.
Join us at Community Hall on December 30 from 2 to 4 p.m. Unique entertainment is planned, and a delicious dessert table will be open. There is no charge for this event, but seating is limited to 300 people. You must have a ticket, and they will be available on Mondays, Wednesdays, and Fridays starting December 13 from 10 to noon at the Atrium kiosk. You must bring your CA Card. Only two tickets are available per person.
IN THE PHOTO: Cars line up to tour "Sun City" on opening day, December 30, 1961.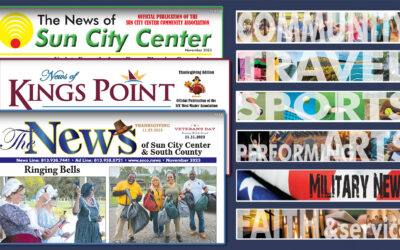 Discover what the Long Range Planning Committee is working on, find out how folks cruise around SCC, hear from the candidates for CA Board of Directors, ring bells with DAR, support local kids, laugh with the Pelican Players, travel to…