Deputy Jeffrey Merry would like to invite you to join your neighbors and Hillsborough County Sheriff's deputies for "Coffee with a Cop" on Tuesday, June 25, 2019, 8 to 9 a.m., at the Ruskin Dunkin Donuts location, 717 Cypress Creek Blvd.
Deputy Merry says this is an opportunity to have a conversation with your local patrol deputies and detectives. He has invited Sheriff Chronister to attend.
In this issue… Relive the festive fun of the Holiday Cart Parade, cruise SCC to find colorful lights and holiday decorations, swing by St. Andrew for Rock 'n' Roll Crafts and Cars, meet the new SCCCA Board members, check in with the Security...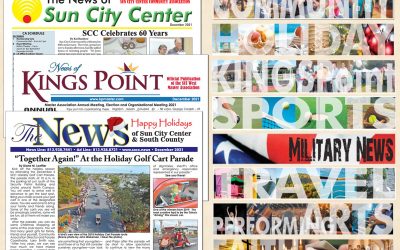 In this issue… Ring in the December holidays with the annual Golf Cart Parade, celebrate 60 Years of SCC, set sail on America's Tall Ship, get to know some local clubs, remember a tireless volunteer who made a big difference, meet a local war...