The Hillsborough County Sheriff's Office is in need of additional Crossing Guards for the upcoming 2019-20 school year.
FROM THE HCSO
"The Crossing Guard Program is seeking energetic and reliable candidates for a rewarding opportunity to serve the children of Hillsborough County. This program is a part-time, split shift position which offers Florida Retirement System benefits. If you are looking for part-time employment with a highly-respected law enforcement agency and a predictable schedule, this is the opportunity!"
MINIMUM QUALIFICATIONS
Must be in good physical condition
No criminal history
Possess a Florida driver license or identification card
Ability to communicate instructions in English
Submit to drug screening and fingerprinting
DETAILS
Shifts: 2 Shifts per day 6:50 a.m. to 8:05 a.m. and 1:40 p.m. to 2:25 p.m.
Days: Monday through Friday No holidays or weekends.
Pay: $11.86 per hour 10 hours per week 20 hours per paycheck
Uniform: You wear your own white shirt with black pants and black shoes
Equipment: We provide the safety vest, stop paddle, raincoat and whistle
Training: You will be trained for three days by a certified trainer.
There is a 1 day mandatory yearly training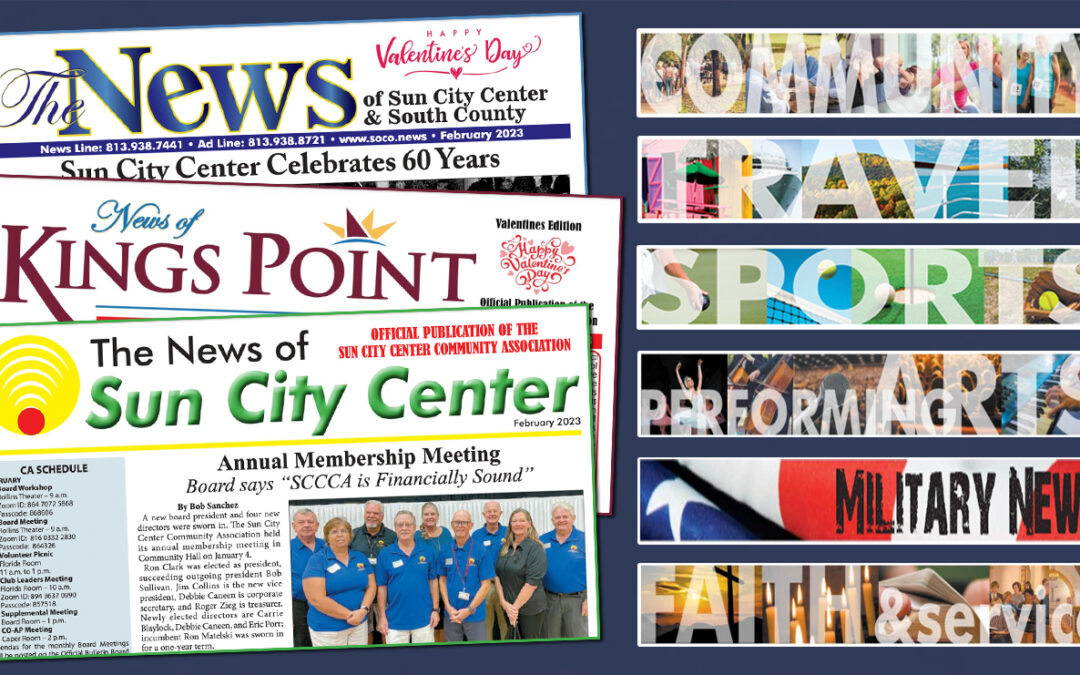 In this issue… Meet the new SCCCA board, enjoy amazing images created by Photo Club members, celebrate 60 years of SCC, jam with the Kings Point Music Makers, grab your calendars to fill with February festivals… Enjoy a Casual, Comfortable...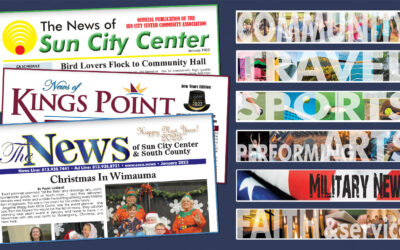 In this issue… Discover why bird lovers flocked to Community Hall, save the date for the Volunteer Picnic on February 15; cruise with the Holiday Cart Parade, see how folks celebrated Christmas in Wimauma, enjoy the Shrine Christmas party, hang...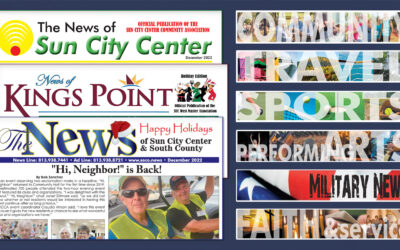 In this issue… Celebrate 60 years with the Men's Club, mark the season with the Holiday Cart Parade, join in the fun of Lighting Up SCC, review the progress of the Long Range Planners over the past year, enjoy "Hi, Neighbor!", learn whooo...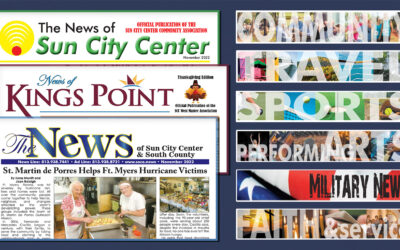 As we turn our clocks back (November 6) and look forward to fall, we hope you are doing well and excited about another beautiful month here in Sun City Center and South Hillsborough County. In this issue… After Hurricane Ian, our...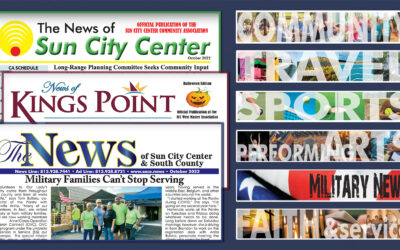 First and foremost, all of us at The News hope that all of you reading this came through Hurricane Ian healthy and safe. Our News team fared well, considering. A few trees and power lines down, loss of power, and the general inconveniences of temporarily...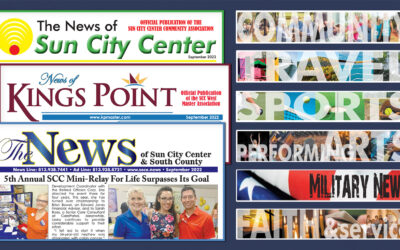 In this issue… Run with the Hemingways, explore the new ER at Sun City Center, take a Night Out with the sheriff's department, see how SCC is Sprucing Up, celebrate Photo Club competition winners, get updated on the Long Range Plan, make some...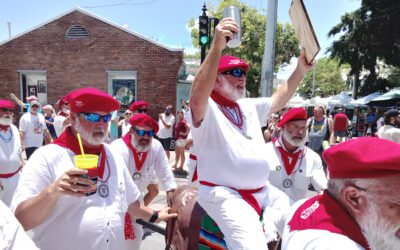 Local Lookalikes Run With the HemingwaysBy Kai Rambow "Always do sober what you said you'd do drunk. That will teach you to keep your mouth shut." – Ernest Hemingway"There might have been some alcohol involved," recalled Gary Mull.  Mull...