Join Hillsborough County Sheriff's Office Community Resource Deputy Jeff Merry for his monthly informational seminar. This month's topic is Travel Safety.
The Hillsborough County Sheriff's Office is committed to serving, protecting, and defending the community and is continuing to do so by offering a monthly open forum on Travel Safety and Security. The presentations will include strategies for preventing fraud and resources available to victims. The presentation will be conducted three times at different community locations:
Tuesday, April 9, 2019 at 1 p.m. 
Ripple Room, Kings Point Community
1900 Clubhouse Drive, Sun City Center, FL 33573
Tuesday, April 16, 2019 at 11 a.m. 
Freedom Auditorium, Freedom Plaza
1010 American Eagle Blvd, Sun City Center, FL 33573
Wednesday, April 17, 2019 at 10 a.m.
The Sandpiper Room, Sun City Center Community Association Atrium
945 N. Course Lane, Sun City Center, FL 33573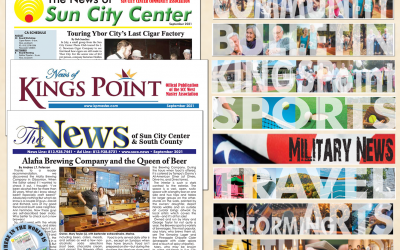 In this issue… Tour Ybor City's last cigar factory, sing with the bluebirds of happiness, save the date for FallFest, commemorate 60 years of SCC with the History Society, tip a glass at Alafia Brewing Company, hit the beach with some rescued...