The Sun City Area Chamber of Commerce presents their Annual Fall Business Expo, a Drive-Thru Event, on Friday, August 28, 2020, from 9 a.m. to 1 p.m.
Claim Your Goodie Bag!
This year, Fall Business Expo organizers are doing something different to deliver value while following CDC-directed social distancing protocols. Arrive by car or golf cart, entering through the Valley Forge Blvd. entrance. Cruise through to receive your Business Goodie Bag, drive through, and enjoy the rest of your day!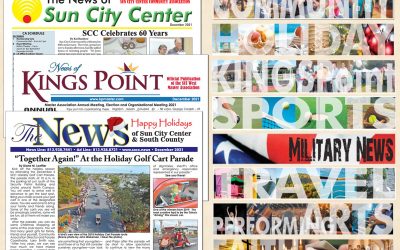 In this issue… Ring in the December holidays with the annual Golf Cart Parade, celebrate 60 Years of SCC, set sail on America's Tall Ship, get to know some local clubs, remember a tireless volunteer who made a big difference, meet a local war...