FallFest October 16: Don't miss it!
Entertainment, Food, Art, Shopping, and a Health Fair               
By Diane M. Loeffler
Rain or shine, FallFest will take place on October 16. The day will begin at the gazebo with opening remarks, the flag raising, the Pledge of Allegiance and the National Anthem. The rest of the day will be similar to our traditional March FunFest with entertainment, food, club sales, vendors and a health fair. Participants include 74 clubs and organizations, 12 businesses, a bloodmobile, and health care services.
Where to Park
Car and golf cart drivers are encouraged to park by Community Hall (1910 S. Pebble Beach Boulevard). Aston Gardens will be providing three buses to take you from the Community Hall Parking Lot on South Pebble Beach to the Community Association Administration Building on North Pebble Beach.
Park at Community Hall and one of the three buses provided by Aston Gardens will take you to the parking lot in front of the Community Association Administration Building. Driver Jerry Crabb has driven buses for Aston Gardens for 20 years.
Three buses will run continuously from 8:30 a.m. until 2:30 p.m. These buses are handicapped accessible. Each air conditioned bus has 24 comfortable seats plus two places for wheelchairs. Remember: the parking lots in and near North Pebble Beach and Cherry Hills will all be closed. There will be no car parking available near North Campus. For safety reasons, no one should park along the nearby streets.
Golf carts may also opt to park in the fields behind the Atrium Building's parking lot. This is where the temporary offices once stood. Be sure to remember where you park.
Look For
Information booths will be set up at the CA Office where the buses drop you off, at the end of the Pottery Wheel Building, along Cherry Hills Drive, and inside the Atrium Building. Volunteers will give you maps with schedules and answer your questions. The booth near the Pottery Wheel Building will also be the lost and found (people and items) area during the festival.
You will see men and women wearing bright orange shirts or jackets. These HAM radio operators will help you if you are lost or if you are looking for someone who is lost.
What to Bring
Bring your appetite, your shopping list, some cash, masks, and your cell phone. The following items are on the menu: breakfast sandwiches, sloppy joe's, hot dogs, Italian sausage, potato salad, beans, apple and cherry pies (with ice cream and toppings), BBQ chicken sandwiches, grilled pork chops, homemade cookies, homemade brownies, burgers, chips, beverages and popcorn. Just in case the menu changes or clubs run out of your favorites, have alternatives in mind. Popcorn will be sold near the gazebo, the other items in the parking areas near Rollins Theater.
FallFest will be an opportunity to buy some genuine "made in Sun City Center" items created by your talented friends and neighbors. You will also be able to buy gift baskets and other items. Shop locally to get great deals while supporting clubs. Many clubs donate all or a portion of their revenues to area charities. Feeling lucky? There will be many chances to purchase lottery tickets for all sorts of items.
Masks are requested for when you are inside buildings. When indoors, you may find you are rather close to other people, especially when you are at the health fair.
You might want to take photos of those in your party with your phone. Should one of you get lost or separated from the others, you can show your phone's photos to the radio club men and women (wearing bright orange). It is much easier for them to reunite people when they can see exactly what the individual is wearing that day.
What NOT to bring
Leave your pets at home unless they are certified service dogs. Also, do not bring bicycles near the venue area. Leave them at home or near Community Hall.
Health Fair
Stop by the Horizon Room to talk to companies and individuals offering health care services. One new service is flu shots. Walgreens will be providing up to 100 of them. You can walk through the Horizon Room to the parking lot where a Bloodmobile will welcome anyone willing and able to donate blood.
Festival guests clapping and singing along with Bill "Elvis" Lindsay at a previous FunFest (News file photo).
Entertainment
There are six places providing entertainment. The gazebo will be the site for the opening ceremonies beginning at 9 a.m. Starting at 9:15, go to the Florida room for presentations or performances by Southeastern Guide Dogs, the Women's Chorus, Par for the Chorus and Wonders of Nature.
The Dance Studio will start with Cloggersizers at 9:30 followed by Let's Dance Ballroom Dancers, Jazzmatazz, and West Coast Swing and Country Dance. The Main Tent will be set up near the Arts and Crafts Building on Cherry Hills Drive. At 9:30, Razzmatazz (a ventriloquist) will perform as well as the Dukes, Bill "Elvis" Lindsay with Kevin Brooks, and Nunez at Night. The Rollins Theater will feature the Front Porch Pickers at 11 and 12. The Swim Dancers will perform at the indoor pool from 11:30 to 11:50.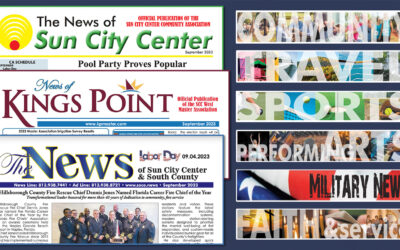 In this issue… Have some Pool Party fun, celebrate with the History Society, register for the Active Life Games, see why local volunteers rock, go Trail Blazing, learn why a local fire chief received a lifetime honor, support Adaptive Sports,...