Fascinating Havana
By Kai Rambow
Licking a delicious mojito sorbet was just one of many contrasts that make Havana fascinating.  We were snacking at a private ice cream shop, thanks to our tour guide.  To really discover Cuba, learn the story behind the story – it's fascinating.
Havana is much more than old cars.  Despite major challenges in getting parts and supplies, many classic cars are in beautiful condition.  If all the historic buildings were restored, people all over the world would be flocking to visit Havana.
The contrast between restored buildings and dilapidated buildings next door is stark. After the revolution, people were allowed to keep two properties: one in the city and one in the country.  The rest were confiscated by the state.
One property in the city did not mean an entire building. For example, one home, a three-story building would be divided into three apartments.  Just divided: no additions (think communal bathrooms), no upgrades – nothing, just divided spaces.
Some families would have money for maintenance, others would not, resulting in no maintenance being done at all. It's ironic that in a socialist system, no HOA and no collective maintenance exists. The result: run-down buildings, many of which require major restoration work.
Socialism vs Capitalism 
There is an absolutely fascinating system in place for small businesses.  There are restaurants throughout Havana. Getting reliable supplies is a challenge. A restaurant may have a menu, but if short on supplies they will simply inform you an item is not available that day.
When the Cuban government allowed some private enterprise, they set things up to the state's advantage. The state actually owns and operates restaurants at a competitive advantage. State run restaurants are able to buy wholesale and set up in prime locations. Private restaurants must buy supplies at retail prices from state run grocery stores. They cannot even get a discount based on volume. The last challenge: the state-run restaurants pay no taxes; private restaurants pay hefty taxes. Here's the great news: despite these obstacles, private restaurants are flourishing.
How can you spot the difference? A restaurant in a great corner location, offering comfort food, such as pizza is government owned and operated. A restaurant on a side street with mostly locals will probably be private.
My mojito sorbet was a first-rate product in a little private ice cream shop. Want to really help Cubans?  Let your guide know that you know the difference, and ask for a really good private restaurant.
Cuba Again?
This first trip to Cuba was enlightening. The obvious is hundreds of years of history, deep cultural roots and tasty food. Add in being more beautiful than imagined, more fascinating than thought possible with wonderful people and I would not only recommend a cruise here, but will take the opportunity to revisit in the future.
Tips for a Great Trip
Invest in Private Tour: In Havana you have three options: Take a cruise ship excursion;  use the hop-on-hop-off bus tour; or hire a private guide.  Havana is a 500-year-old city with narrow streets; a bus tour will drive past major sites.  If you really want to learn about Havana and Cuban life, a private guide is worth the investment.  Develop rapport, ask great questions and gain insights you simply can't with the other options.
Our private tour involved walking large sections of Old Havana and included two hours touring in a classic convertible. Tip: Maybe you need a stop for a quick bite, but leave any shopping until after your tour.
Booked with Cubaoutings Tours. Payment was in CUCs upon conclusion of tour. Note: Even with tips, this was less expensive than the cruise ship shore excursions.
Water and Snacks: Be sure to take water, you'll need it. Cuban authorities will let you take water, if they are in unopened bottles.  Snacks, also in sealed packages, are permitted as well.  Both can be helpful.  The walking is not strenuous, but covers quite a bit of ground.  If temperatures are hot, you'll need the water and snacks.
Special thanks to Jayne Kirse and Teresa Olson at Sun City Center Travelworld, for their invaluable assistance.
Cubaoutings Tours Company
www.cubaoutings.com
Helad'oro La Habana
(ice cream / sorbet)
Calle Aguiar No. 206e
Empedrado y Tejadillo
La Habana Vieja
Tel: 56236942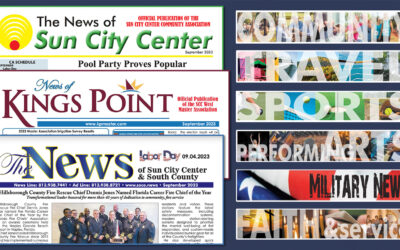 In this issue… Have some Pool Party fun, celebrate with the History Society, register for the Active Life Games, see why local volunteers rock, go Trail Blazing, learn why a local fire chief received a lifetime honor, support Adaptive Sports,...