Get to know SCC at the Information Center, read a recap of the January SCCCA membership and board meetings, learn how the SCC Beautification Corporation helps keep the community looking its best, show your gratitude for our First Responders, celebrate 101 years with Marge and 99 years with Mo, meet some local authors to help you fill your summer reading list, relive the fun of the Business Expo, cruise by the Funny Farm, mark your calendar for some great area festivals, discover a local athlete hoping to Make History at the Olympics, and marvel at the Water Circus.
Then, be sure to check out the SCCCA Club News, Kings Point News, Military News, Sports, Arts, Faith & Service, and Community News sections to help you plan your month.
Read the February 2022 Issue of The News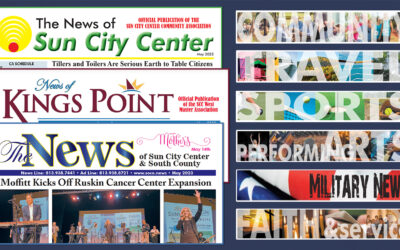 In this issue… Learn about the Moffitt Cancer Center kickoff, get an update on the Waterset Sports Complex, improve your green thumb with the Tillers and Toilers and the Elegant Gardeners, sail with the Cygnet Yacht Club, save the date for the...