Meet the new SCCCA board, enjoy amazing images created by Photo Club members, celebrate 60 years of SCC, jam with the Kings Point Music Makers, grab your calendars to fill with February festivals… Enjoy a Casual, Comfortable Dining Experience, have Good Times at the Florida State Fair, meet a senior basketball phenom, soar with Eagle Audubon, and discover some Truth Stranger Than Fiction…
Then be sure to check out the SCCCA Club News, Kings Point News, Military News, Sports, Arts, Faith & Service, and Community News sections to help you plan your month.
Read the February 2023 Issue of The News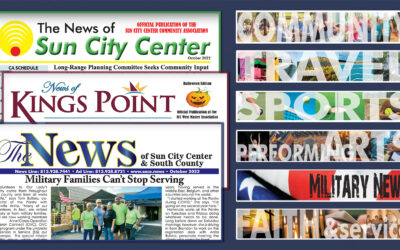 First and foremost, all of us at The News hope that all of you reading this came through Hurricane Ian healthy and safe. Our News team fared well, considering. A few trees and power lines down, loss of power, and the general inconveniences of temporarily...