First Time Entrant Wins Best of Show
By Kai Rambow
"I hadn't expected to do well," shared Bradd Robinson. Robinson joined the Stained Glass club only two years ago, and this was his first competition. Robinson walked away with three ribbons including first place and best in show.
Robinson had zero desire to do stained glass. A friend persuaded him to become involved in a project and Robinson became hooked. He credits the mentoring and friendships in the club for his success. "Having an amazing mentor is very important," he noted.
While most contestants entered stain glass panels, Robinson entered a trio of vases. These are very challenging because the measurements have to be exact.  At the Florida State Fair, the judges have the ability to leave comments.  More than one judge commented on the near perfect technical aspects of Robinson's work.
Congratulations to Robinson and the Stained Glass club. Over the years it has always been a pleasure to meet newcomers to a club who've never participated in a sport or activity before, and then go on to win major recognition. What have you always wanted to try? It's almost never too late to start something new.
IN THE PHOTO: Bradd Robinson with his winning artwork. The three tallest vases were entered as a trio and won first place, and then best of show. The smaller vase in the center won third place.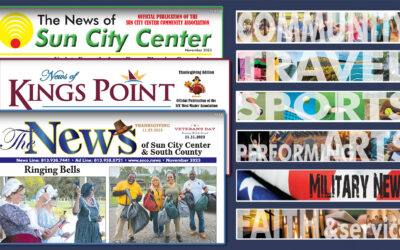 Discover what the Long Range Planning Committee is working on, find out how folks cruise around SCC, hear from the candidates for CA Board of Directors, ring bells with DAR, support local kids, laugh with the Pelican Players, travel to…