Floating by Fabulous Chicago Buildings
By Kai Rambow
The Jewelers' Building, completed in 1927 and facing the Chicago River, has a distinct look that grabs your attention.  Behind the unique look is an interesting story.  For many years, one elevator transported cars to the first 23 floors, enabling jewelers to safely transfer and transport their valuable merchandise.
The only way to discover this is on an architectural tour.  The best part: you can do this seated comfortably on a large boat with great views. Chicago is considered to be one of the world's best cities for architecture with a terrific mix of different styles.
JJ, our narrator, provided enthused commentary to help us understand what we were seeing.  Here are a few sneak peeks at what you can expect to discover during a tour.
The Overlooked Streets
You'll never think about it walking around Chicago, but the streets aren't actually at "street level."  When you're on the boat you'll repeatedly cross under bridges, which of course, are raised above the river level.  Look more closely, and you'll notice pedestrians just keep walking at the same level with no ups or downs, but above the water level.  This raised level constitutes street level.
The Pencil Building
At the top of this building, which is thinner at the base than at the top, there are 12 water tanks, spring loaded with dampeners.  When the wind blows from one direction, the water automatically shifts and pushes back to counteract the forces.
333 West Wacker
Even modern buildings in Chicago are evocative.  Built in 1983, and featured in Ferris Bueller's Day Off, the contextual design is fabulous.  Using the location as an inspiration for form, the building is inspired by the green of the river and the curve of the river. The glass panes are green to maximize the reflection.
This is a very enjoyable way to explore Chicago. Unlike a bus tour, everyone has great views throughout the trip. In addition to having a comfortable ride while learning, the boat has snacks and alcoholic drinks available.
Sleep Historically
No, you don't have to sleep on a straw mattress, but in a historic building turned into a hotel.  The Chicago Motor Club opened in 1929.  It's considered to be one of Chicago's best Art Deco skyscrapers.  In 2015, it was turned into a Hampton Inn with many of the original Art Deco touches put back in place.
If you love architecture, this is a cool step back in time with modern amenities. You can often snag a really good rate and it's one short block from the river.
Tips for a Great Trip
Weather: Since you're exposed to the weather elements, check the forecast to ensure a great trip.  Take water to stay hydrated. You may need sunglasses, sunscreen, and a hat if it's sunny.
Location: Whether you're staying in Chicago, or commuting in for a day trip, boat tours depart from an easy to reach location near the Wrigley building. Give yourself a little extra time to find the ticket booth and get down to boat.
Apple Store: Be sure to check out the new Apple store right near the dock. Built right into the side of river, it has its own smart design.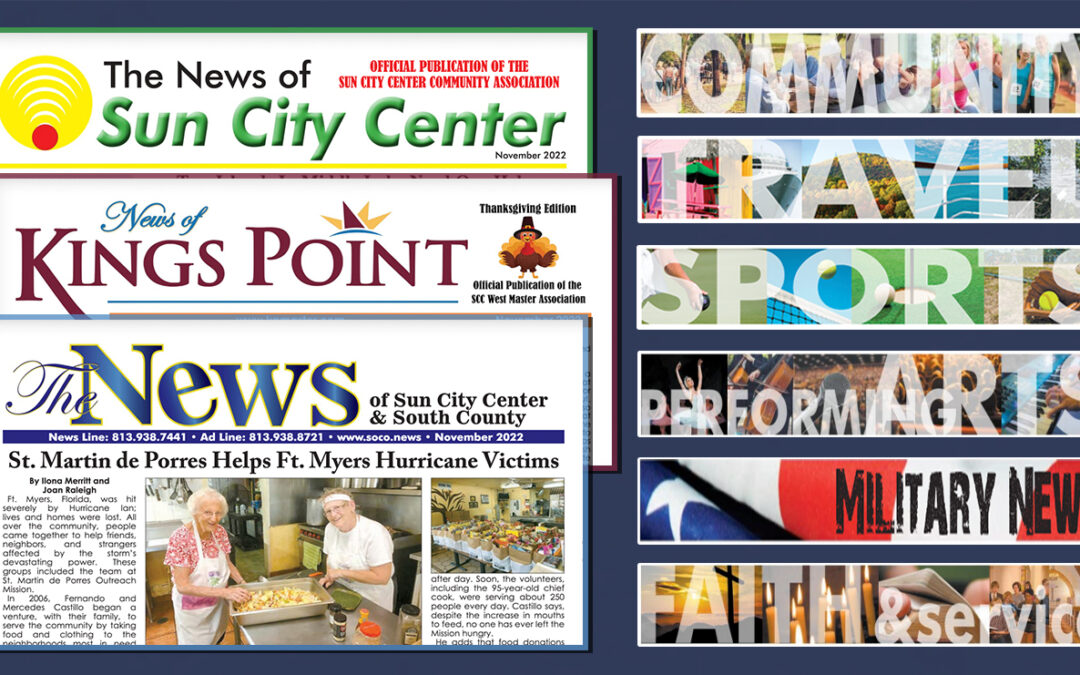 As we turn our clocks back (November 6) and look forward to fall, we hope you are doing well and excited about another beautiful month here in Sun City Center and South Hillsborough County. In this issue… After Hurricane Ian, our...
Architecture River Tours
Shoreline Sightseeing
(312) 222-9328
www.shorelinesightseeing.com
Hampton Inn Chicago Downtown
North Loop / Michigan Ave
68 E Wacker Place
Chicago, IL  606001
(312) 419-9014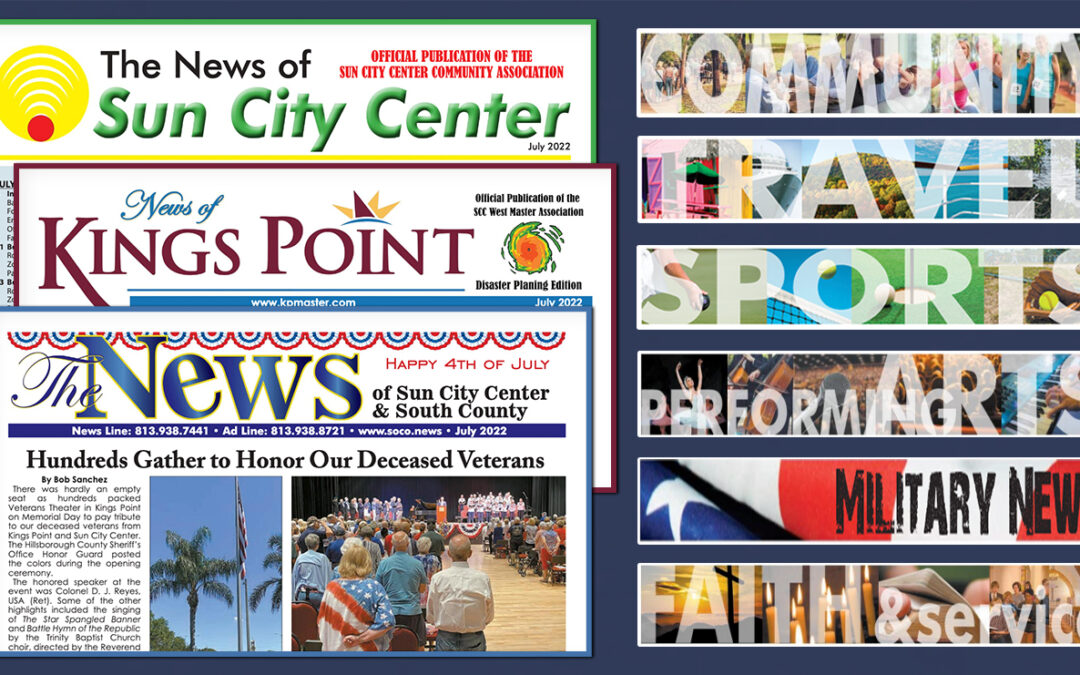 In this issue… Save the date for SCCCA Family Fun Day, welcome Jeff Parsons to the SCCCA Board, enjoy the beauty of local nesting birds, celebrate a truly great photo exhibit, catch up on local road improvements, remember our veterans as we...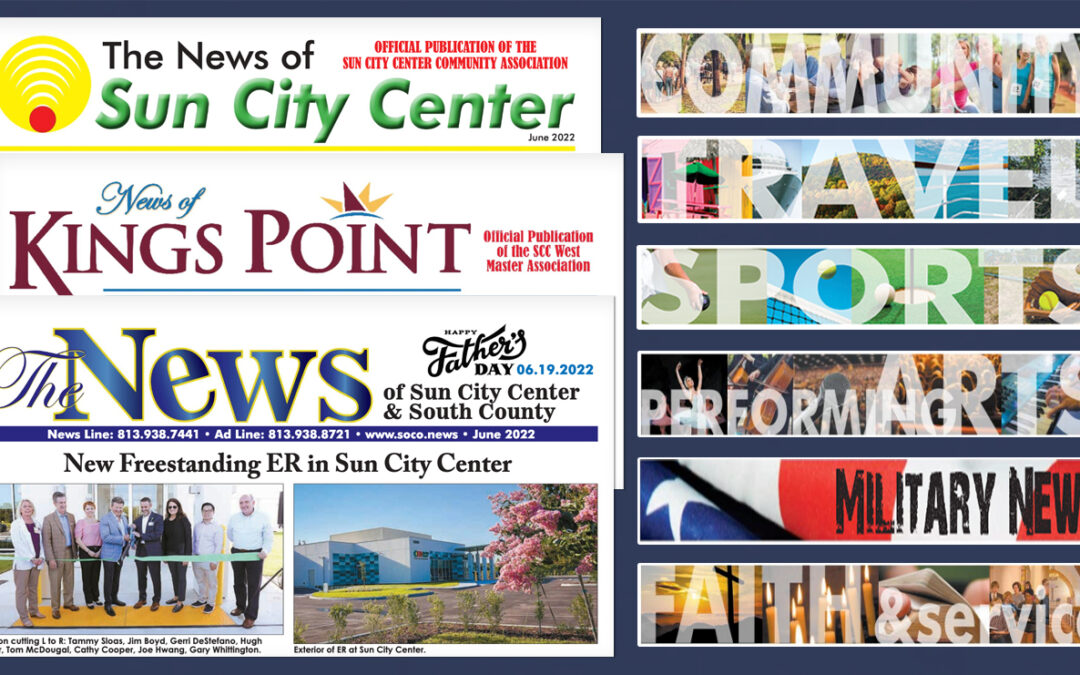 In this issue… Discover a new ER in SCC, meet the new SCCCA director, celebrate with Cygnet, commemorate Earth Day, take a low and slow balloon cruise, marvel at the world's largest flamingo, catch up on Entertainment News, save the date for...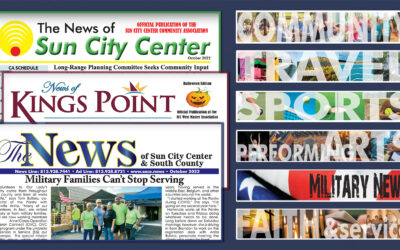 First and foremost, all of us at The News hope that all of you reading this came through Hurricane Ian healthy and safe. Our News team fared well, considering. A few trees and power lines down, loss of power, and the general inconveniences of temporarily...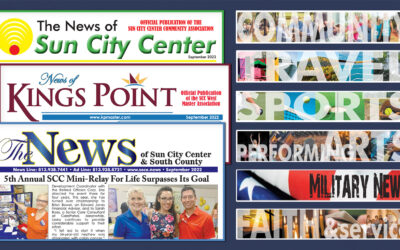 In this issue… Run with the Hemingways, explore the new ER at Sun City Center, take a Night Out with the sheriff's department, see how SCC is Sprucing Up, celebrate Photo Club competition winners, get updated on the Long Range Plan, make some...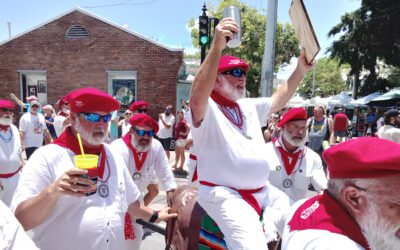 Local Lookalikes Run With the HemingwaysBy Kai Rambow "Always do sober what you said you'd do drunk. That will teach you to keep your mouth shut." – Ernest Hemingway"There might have been some alcohol involved," recalled Gary Mull.  Mull...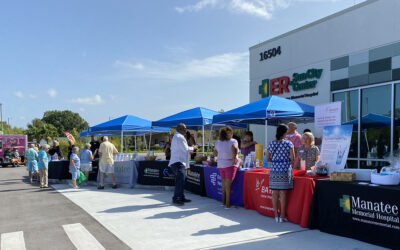 Community Expo Showcases ER at Sun City CenterBy Bob Sanchez The ER at Sun City Center hosted a Community Expo to show off the brand-new facility to the public. The free-standing building is an extension of Manatee Memorial Hospital....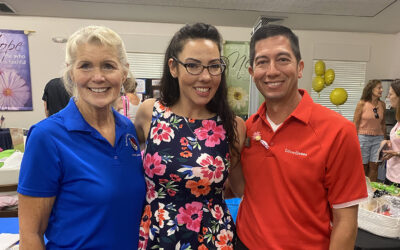 5th Annual SCC Relay for Life Surpasses Goal By Bob Sanchez The 5th annual SCC Mini-Relay for Life drew hundreds to St. Andrew's Presbyterian Church on July 29 to raise money in the fight against cancer. The event raised $16,757.39, easily...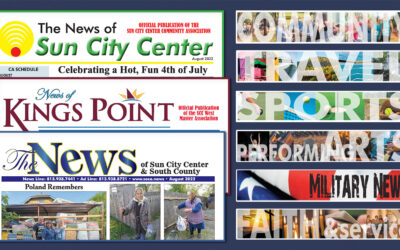 In this issue… Learn how volunteers here and abroad are helping Ukrainian refugees, meet some local teens investing in our community, catch the raptor show at the Florida Aquarium, celebrate our Independence, raise a nesting pole with the...