This Memorial Day Weekend and every day, The Florida Aquarium remembers the fallen and thanks all military members and veterans for protecting and serving our country. Join them Memorial Day Weekend, Friday, May 24 – Monday, May 27, 2019, with amazing animals and plants that call the Aquarium home. The Aquarium is open every day: 9:30 a.m. – 5:00 p.m.
During this upcoming holiday weekend, all active duty, veteran, retired or drilling reservist or National Guardsman can receive two free* general admission tickets. Additional guests (up to four people) also can get an exclusive 50% off Aquarium general admission ticket. To receive this ticket promotion, a valid military ID must be presented at The Florida Aquarium ticket office. Tickets are not available for advance online purchase.
While at the Aquarium, go from tree level to sea level and see more than 14,000 animals, including native Florida birds and otters, to sharks, alligators, seahorses and more. You are sure to have a fantastic experience. Sights include a large simulated wetlands environment located under a tall glass atrium, shallow bays, and beaches, and a coral reef ecosystem encompassed in half a million gallons of natural seawater.
After exploring all the exhibits inside, come aboard the 72-foot Wild Dolphin Cruise catamaran for a 75-minute excursion around Tampa Bay for a chance to see wild dolphins and seabirds in their natural habitat. (Reservations and an additional charge are required for the Wild Dolphin Cruise.)
To learn more about Memorial Day at The Florida Aquarium and all of the upcoming events offered at The Florida Aquarium year-round, visit the website.
*Offer includes any active duty, veteran, retired or drilling reservist or National Guardsmen and must be redeemed with a valid military ID at The Florida Aquarium Ticket Office.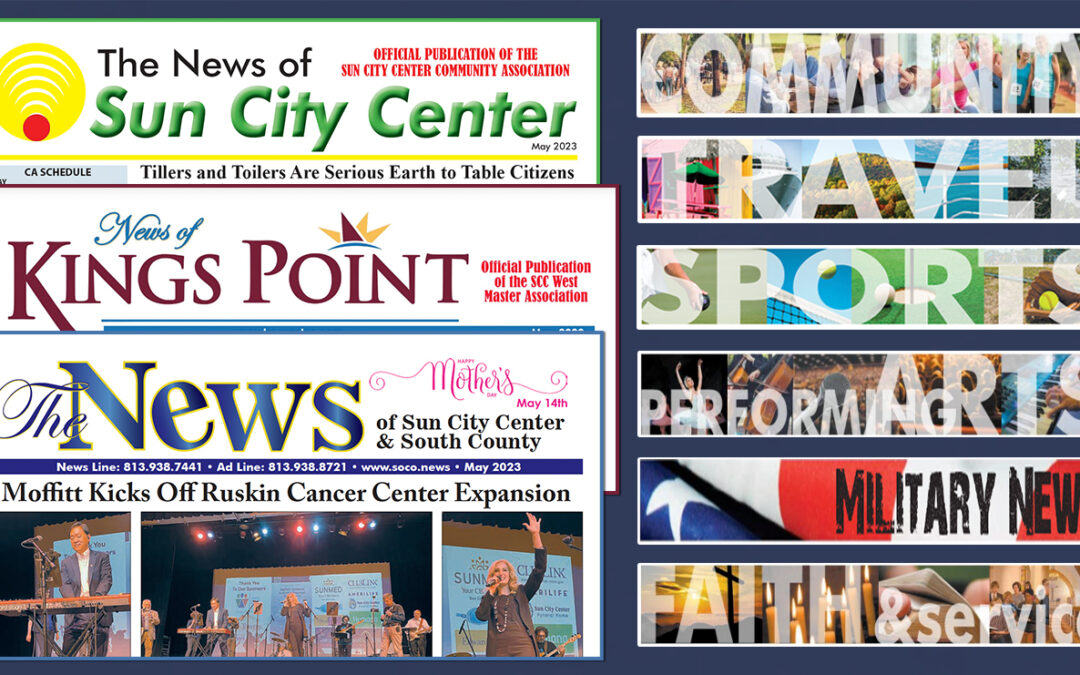 In this issue… Learn about the Moffitt Cancer Center kickoff, get an update on the Waterset Sports Complex, improve your green thumb with the Tillers and Toilers and the Elegant Gardeners, sail with the Cygnet Yacht Club, save the date for the...
In this issue… Explore the myriad of opportunities in the community through FunFest, marvel at the wonders created for the Stained Glass Show, swashbuckle with the History Society, save the date for shredding day, catch up with the Long Range...