Front Porch Pickers
By Paula Lickfeldt
In 2001, four men sat around Ray Kelley's kitchen table and sang for a beer.  The four were, Ike McCloskey playing guitar, Ray Kelley playing dobro, Jim Kinnear playing guitar and Kenny Ward playing mandolin.  The first gal to join the group was Mary Lou, who played the spoons and the washboard but very shortly after joining the group she had to return to West Virginia. Janette Harrington, the group's "Minnie Pearl" was next to join, and she also played the spoons and the washboard and told wonderful stories about folks sitting on a bench in front of the hardware store.  Janette always had a question, and the person who had the correct answer got a Goo-Goo candy cluster from the ACME Candy Co. in Tennessee.  Janette's philosophy of life was "Just keep breathing."
The first time the group played publicly was at the memorial service for Eddie Lahowski. Eddie's final request was that someone would play his fiddle one more time after his death.  The fiddle was played at his memorial service. 
In 2003, Ike, with the help of Kelly Emmerson, wrote the bylaws for the club and applied for membership as a club in the Community Association.  Membership was granted, and Ike became the president, a position which he held for many years.
The club now has a membership of over sixty. The oldest member, at age 96, is Ed Watson who plays the harmonica.  He told me that he has been playing the harmonica since he was twelve years old.  His brother found a harmonica.  One reed was missing but they both used it and learned to play.  Another member is Joe Bateman, who plays the Autoharp.  Joe started playing the Autoharp in 1976. When he retired from the US Air Force, where he was stationed at MacDill, he and his wife Clara moved to SCC and Joe joined the Pickers. Carolyn Hunter joined the club about fourteen years ago.  She plays the guitar and writes songs about things that happen in SCC.
The Front Porch Pickers play every Wednesday at the Rollins Theater from 2 until 4 p.m.
During the winter season, they have an audience of nearly 140. Each week they pass a basket for donations and they get a donation when the have a playdate.  At the end of each year the board decides which local charities they will support financially, with the donations they collected during the year. This year the Pickers gave $900 to the Good Samaritans, $900 to Meals on Wheels and they paid for six Hardship Awards to be given by the CA.
If you are looking for something fun and uplifting to do on a Wednesday afternoon, you should make your way to the Rollins Theater and listen to the Front Porch Pickers. They are a group of people who really have a good time "pickin' and grinnin'."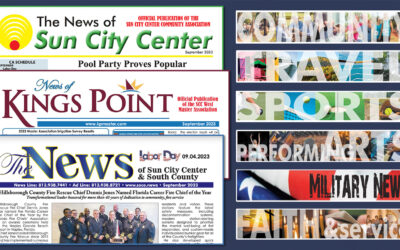 In this issue… Have some Pool Party fun, celebrate with the History Society, register for the Active Life Games, see why local volunteers rock, go Trail Blazing, learn why a local fire chief received a lifetime honor, support Adaptive Sports,...