Fun Train Robbery?
By Kai Rambow
There was a lull in the shooting; both sides were out of bullets. "Keep talking while I'm reloading," instructed the sheriff to the bad guy. This is just one of the fun moments during the Hole in the Head Gang – Train Robbery.
The Florida Railroad Museum has a knack for not just taking passengers on a train ride, but creating memorable experiences.  Adults were just as enthused, maybe more so, than kids to get their picture taken with a cast of characters.
The first set of dates will be at the end of this month.  Events at the Railroad Museum are very popular and sell out quickly.  So, if you'd like to do this, get your tickets early.
Hole in the Head Gang Train Robbery
November 30, December 1
Florida Railroad Museum
12210 83rd Street East
Parrish, FL 
(941) 776-0906
www.frrm.org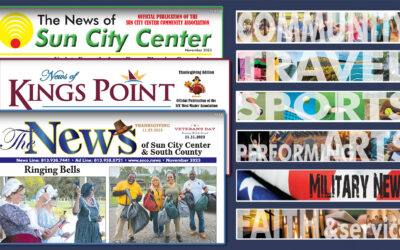 Discover what the Long Range Planning Committee is working on, find out how folks cruise around SCC, hear from the candidates for CA Board of Directors, ring bells with DAR, support local kids, laugh with the Pelican Players, travel to…