FunFest 2019: SCC Celebrates Spring      
By Diane M. Loeffler
We were all nervously watching the sky on March 16. Thankfully, the early morning shower ceased well before the 9 a.m. opening ceremony, and the rest of the day was rain free. FunFest Chairman, Dave Birkett, welcomed us, followed by Jim Haney raising the flag, Salvina Tannenholz singing the National Album, and Uta Kuhn leading the Pledge of Allegiance.
Tai Chi was already underway at 9 a.m. Soon after, the Dukes began performing in the main tent, and German American Club Singers sang in Rollins Theater. By 10, the entertainment was in full swing with The Women's Chorus, Gals & Guys Productions, and Non-Impact Aerobics followed by 3Dom, Jazzmatazz, The Men's Chorus, Par for the Chorus, Latin Fitness Dance, Solo Line Dance, Front Porch Pickers, Kevin Brooks, Swim Dancers, the Wonders of Nature and Bill "Elvis" Lindsay. The performances were amazing. Who knew that there are so many talented people in Sun City Center and the surrounding area?
Clubs offered a wide assortment of "made in Sun City Center" treasures for sale: greeting cards, ceramics, woodworking, pottery, shell creations, fused glass, stained glass, plants, and needlecraft items. The Weavers Club were weaving baby blankets for the Shriners Children's Hospital throughout the day. Joe Kanoza painted a gorgeous seaside scene with oil paint as he sat near the pool. Potters worked clay into bowls on their wheels. Stained glass artisans welded glass together. Everywhere you looked, someone was creating something amazing.
If you love taking a chance on raffle items, this was heaven for you. The baskets and package deals were better than ever and included gift cards, lottery tickets, spa packages, artwork, special event tickets and everything in between. Artwork was on display in several areas. The photography club has professionals judge their work quarterly, but on March 16, it was a "People's Choice" day. Anyone who came to view the pictures could vote on the three they liked the best.
The smell of cookies baking and meat on the grill permeated the air. These were just a few of the many tasty options. James Crist volunteered two hours of his day to serving coffee and cookies at the Shuffleboard booth before sitting down to eat. Crist says, "FunFest keeps growing a bit more each year. More good food to eat." Ken Mertens especially enjoyed the breakfast sausage and cheese on a croissant. Carol Zeller says, "The apple pie was delicious." Looking around the tables crowded with happy diners, it was obvious that people were enjoying their food.
Judy Pember recently moved here from Portland, Oregon. She says, "This is our first FunFest and it's fun, very fun." Community Association Director Larry Smith says, "What a wonderful day. My fourth in a row. Excellent turnout. I want to say thank you to the 36 people who volunteered to hand out programs and information."
Thank you, sponsors, clubs, performers, artists, hobbyists, and attendees.
You made this a wonderful day.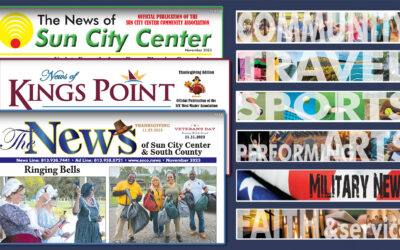 Discover what the Long Range Planning Committee is working on, find out how folks cruise around SCC, hear from the candidates for CA Board of Directors, ring bells with DAR, support local kids, laugh with the Pelican Players, travel to…