The "Home for the Holidays" Holiday Golf Cart Parade begins at 10 a.m. on Saturday, December 14. Residents, businesses, HOAs, service organizations, and clubs from across the community
will come together to celebrate the season with festive and creative holiday carts. The parade route begins on N. Pebble Beach Boulevard, near the SCCCA offices, and runs around La Jolla Avenue, before coming back up Cherry Hills Drive to end by the gazebo.
*News file photo by John Wakeman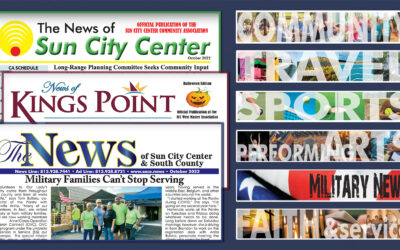 First and foremost, all of us at The News hope that all of you reading this came through Hurricane Ian healthy and safe. Our News team fared well, considering. A few trees and power lines down, loss of power, and the general inconveniences of temporarily...