The "Home for the Holidays" Holiday Golf Cart Parade begins at 10 a.m. on Saturday, December 14. Residents, businesses, HOAs, service organizations, and clubs from across the community
will come together to celebrate the season with festive and creative holiday carts. The parade route begins on N. Pebble Beach Boulevard, near the SCCCA offices, and runs around La Jolla Avenue, before coming back up Cherry Hills Drive to end by the gazebo.
*News file photo by John Wakeman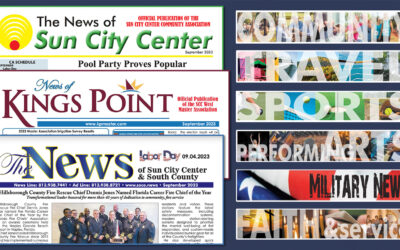 In this issue… Have some Pool Party fun, celebrate with the History Society, register for the Active Life Games, see why local volunteers rock, go Trail Blazing, learn why a local fire chief received a lifetime honor, support Adaptive Sports,...