Interfaith Council Supports American Legion Youth
By Jay Sparkman
The Sun City Center Interfaith Social Action Council recently presented a $2,500 grant to American Legion Post 246 for the purpose of financing four registrations for Florida Boys State and two registrations for the Florida Youth Law Cadet Academy. The students will be chosen from Lennard HS and East Bay High School.
The SCC Interfaith Council uses monies from the sale of donated goods at the Nearly New Shop in Sun City Center Plaza to fund grants and scholarships in the South Shore area. For more information go to www.InterfaithCouncilofSunCityCenter.com or call 813.642.9099.
In the photo: L-R, Jim Haney, Post 246 Boys State Coordinator; Nick Caleca, Interfaith Council grants committee; Jim Wendell, Commander Post 246.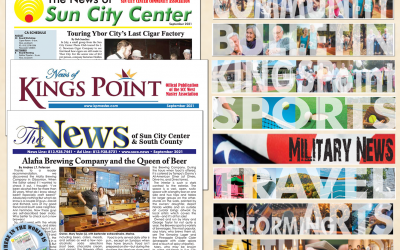 In this issue… Tour Ybor City's last cigar factory, sing with the bluebirds of happiness, save the date for FallFest, commemorate 60 years of SCC with the History Society, tip a glass at Alafia Brewing Company, hit the beach with some rescued...