Mark your calendars for the SCC 4th of July Fun Day, read about an Important Update from the SCCCA Board, learn What's New at the SCC library, cookout with the Multi-Cultural Heritage Club, Get Off The Couch with the Cloggersizers, create with the Lapidary Club, fly into the sky in Lee Lauderback's historic P-51 Mustang, learn how the HCSO helps find missing persons, welcome our new HCSO Community Service Aide, plan for Hurricane Season, read A Caregiver's Story, have some Summer Fun at Camp Bayou, and Adventure with Barbara Lee.
Then, be sure to check out the SCC Club News, Kings Point News, Military News, Sports, Arts, Faith & Service, and Community News sections to help you plan your month.
Read the July 2021 Issue of The News
COVID-19 Vaccine Info
Florida hospitals and county health departments have received hundreds of thousands of vaccine doses. More are coming. Learn how these will be distributed and get more information at the Florida Department of Health website, "floridahealth.gov."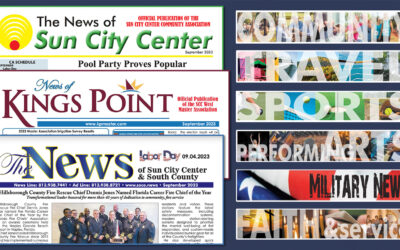 In this issue… Have some Pool Party fun, celebrate with the History Society, register for the Active Life Games, see why local volunteers rock, go Trail Blazing, learn why a local fire chief received a lifetime honor, support Adaptive Sports,...