Save the date for SCCCA Family Fun Day, welcome Jeff Parsons to the SCCCA Board, enjoy the beauty of local nesting birds, celebrate a truly great photo exhibit, catch up on local road improvements, remember our veterans as we celebrate our Independence, tip your hat to CAHT, soar with the Thunderbirds, swim with the dancers, get déjà vu all over again, cruise over the mountains of Kauai, meet local hero Bill Chini, lend a helping hand with the Lions Club, peruse the art of the Highwaymen, reminisce over A Land Remembered, explore some Cuban Pathways, and meets some folks with a deep Family Connection to SCC.
Then be sure to check out the SCCCA Club News, Kings Point News, Military News, Sports, Arts, Faith & Service, and Community News sections to help you plan your month.
Read the July 2022 Issue of The News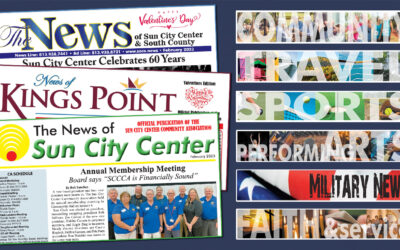 In this issue… Meet the new SCCCA board, enjoy amazing images created by Photo Club members, celebrate 60 years of SCC, jam with the Kings Point Music Makers, grab your calendars to fill with February festivals… Enjoy a Casual, Comfortable...