Celebrate Earth Day, enjoy local wildlife, get updates on the upcoming Entertainment Series, learn about a benefit event for local pets, go back in time to a wacky and wonderful rendition of the Renaissance, experience turning 100 in SCC, see where your neighbors took The News, explore Ybor City and step on Cuban soil, discover how TPRO is keeping us safer from COVID, celebrate Cinco de Mayo with the Kings Point Garden Club, and mark your calendar for the SCCCA 4th of July Family Fun Day!
And be sure to check out the SCC Club News, Kings Point News, Military News, and Community News to help you plan your month.
Read the June 2021 Issue of The News
COVID-19 Vaccine Info
Florida hospitals, county health departments, and local pharmacies have received hundreds of thousands of vaccine doses. Learn how these will be distributed and get more information at the Florida Department of Health website, "floridahealth.gov."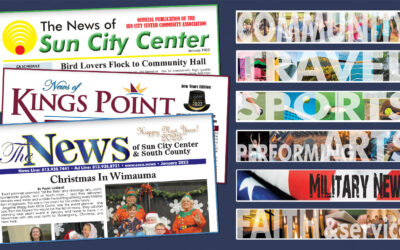 In this issue… Discover why bird lovers flocked to Community Hall, save the date for the Volunteer Picnic on February 15; cruise with the Holiday Cart Parade, see how folks celebrated Christmas in Wimauma, enjoy the Shrine Christmas party, hang...