On Saturday, October 12, The GFWC Sun City Center Woman's Club held a fundraiser in conjunction with The Pelican Players. The "Lethal Luau" was an afternoon of mystery and fun where the audience were detectives solving the murder.  Many participants were correct in accusing Chief Wiki, their names were put in a basket and 3 names were drawn to win a prize.  Opportunity tickets were sold and 4 prizes were awarded – a beautiful fall wreath which had been donated a member, a no sew blanket and heart pillow donated by the Woman's Club, and 2 cash prizes. 
The SCC Woman's Club is a nonprofit organization that strives to enrich the lives of its members and the community through educational activities and charitable services and this fundraiser increased the club's charitable fund. The Pelican Players Scholarship Fund also benefitted from the proceeds.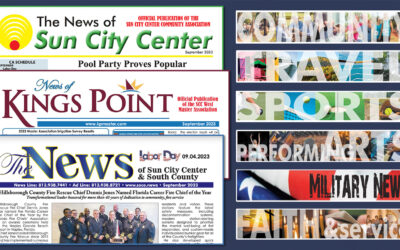 In this issue… Have some Pool Party fun, celebrate with the History Society, register for the Active Life Games, see why local volunteers rock, go Trail Blazing, learn why a local fire chief received a lifetime honor, support Adaptive Sports,...