Hear from the newly elected SCCCA Board Members, see who helped SCC residents get their COVID-19 vaccine, get away for the day at Apollo Beach Preserve, mark your calendars for a very special livestream theater event, enjoy a stroll through Monet's Garden, read about Irish American heritage, discover river rapids right here in Hillsborough County, help a local resident celebrate a century, cheer on some award-winning athletes, hear about vaccine experiences from local residents, discover how the Florida Orchestra is managing social distancing, and explore the outdoors at Camp Bayou.
And be sure to check out the SCC Club News, Kings Point News, Community News, and South County News sections to help you plan your month.
Read the March 2021 Issue of The News
Florida is in Phase 3. Get the latest updates.
COVID-19 Vaccine
Florida hospitals and county health departments have received hundreds of thousands of vaccine doses. More are coming. Learn how these will be distributed and get more information at the Florida Department of Health website, "floridahealth.gov."
Testing Centers in Hillsborough County
Hillsborough County has a new testing reservation line. Call 888.513.6321 to make an appointment for a test at any of the seven county testing locations, including three in South County:
Redeemer Lutheran Church, 701 Valley Forge Blvd., Sun City Center
Wimauma Opportunity Center, 5128 SR-674
SouthShore Community Resource Center, 201 14th Ave. SE, Ruskin
Suncoast Community Health Centers, 313 S. Lakewood Drive, Brandon
Lee Davis Community Resource Center, 3402 N. 22nd St., Tampa
Plant City Community Resource Center, 307 N. Michigan Ave., Plant City
Raymond James Stadium, 4201 N. Dale Mabry Highway, Tampa
Reservation call center hours are weekdays, 8 a.m. to 5 p.m. Individuals arriving without an appointment will not be tested. You must have your confirmation code, as well as a photo ID with the name and date of birth of all persons being tested, when you go for the test. For further testing information, visit "www.hillsboroughcounty.org" and search "getting-tested". In the results, scroll down to "Testing & If You're Sick".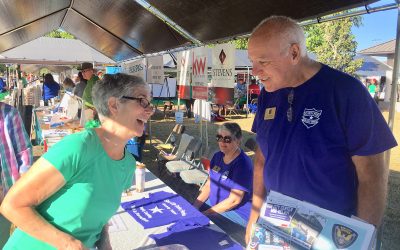 FallFest October 16: Don't miss it!Entertainment, Food, Art, Shopping, and a Health Fair                By Diane M. Loeffler Rain or shine, FallFest will take place on October 16. The day will begin at the gazebo with opening remarks, the flag raising, the...