We honor standout members of the SCC Security Patrol, uncover a Hoot of a Story, learn how to connect with the Long Range Plan, travel back in time to the Renaissance Festival, play some Games Highland Style, have a Great Time at the State Fair, raise money for the Emergency Squad with Jack's Shack, catch up with the RN Club, meet a new music director, make some Family Connections, learn how to avoid the latest scams, celebrate 105 years, travel for the birds, remember women who would not be silenced, and commemorate a resident who helped make SCC a great community.
And, be sure to check out the SCCCA Club News, Kings Point News, Military News, Sports, Arts, Faith & Service, and Community News sections to help you plan your month.
Read the March 2022 Issue of The News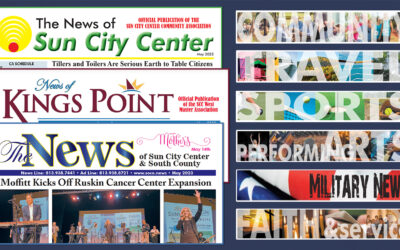 In this issue… Learn about the Moffitt Cancer Center kickoff, get an update on the Waterset Sports Complex, improve your green thumb with the Tillers and Toilers and the Elegant Gardeners, sail with the Cygnet Yacht Club, save the date for the...