Check out FunFest on March 11 and Sun 'n Fun on March 28, find out about the latest scams on March 9, stroll the Bluebird Trail, thank Claudia Hinson for years of outstanding service to the community, learn about Seniors in Service, jam with the Bluewater Band, get an inside look at the new Community Health Center, visit with some manatees, join the South Shore Community Chorus, learn about Essential Tremor, marvel at Tremendous Tiffany, discover a "Fountain of Youth," meet the Woman of the Year, and peek inside the mind of the Secret Life of Sunflowers.
Then be sure to check out the Club News, Kings Point News, Military News, Sports, Arts, Faith & Service, and Community News sections to help you plan your month.
Read the March 2023 Issue of The News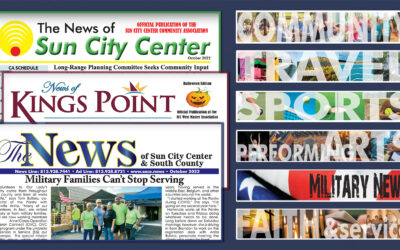 First and foremost, all of us at The News hope that all of you reading this came through Hurricane Ian healthy and safe. Our News team fared well, considering. A few trees and power lines down, loss of power, and the general inconveniences of temporarily...