Men's Club Extends an Important Lifeline
By Bob Sanchez
When Joan Gross crashed her golf cart into trash barrels at 10 p.m., that was the last straw for her daughter Ellen, who moved in with her mom, who is 86 now and has dementia, heart disease, and diabetes. They subscribed to Lifeline for $25 per month, and that has saved Mom's life "more times than I can count," Ellen says. "It's a godsend." She gave permission to use their names.
Joan Gross could be any of us. As we age, we become increasingly aware of the dangers of falling, whether we are home or out and about. So it's important to know about Lifeline, a critical community resource made possible thanks to the Men's Club of Sun City Center.
Put simply, if you've fallen and can't get up, just press a button to reach the Lifeline response center immediately. They in turn contact the local emergency squad, the Hillsborough County fire department or the Sheriff's office, depending on the situation.
For two decades, the Men's Club has helped make the Lifeline system available to residents of Sun City Center, including Kings Point, Freedom Plaza, Aston Gardens, Sun Towers, The Courtyards, Pacifica, and Cypress Creek Assisted Living.
Lifeline Administrator Nellie Brock says that in recent years "there have been an average of 600 plus incidents when our subscribers have pushed the button for assistance, or the fall detection feature has been activated."
An advantage that Lifeline offers and many subscribers appreciate, she says, "is the fact that we bring the equipment to them at their home, show them how it works and answer any questions they may have.  Also, if service is needed, we respond quickly.  No need to package the equipment up and ship it back to the factory for repair or replacement.  If a button or battery needs to be replaced, the Men's Club does that at no charge to the subscriber."
"Folks must be pleased with the program based on the number of referrals we get" from friends and neighbors," she adds.
That may be an understatement. "It's an amazing service just to be able to press a button," Ellen says. She pointedly credits the Men's Club's volunteers for their selfless service.
The cost to subscribers ranges from $25-$40 per month, depending on the system.
Harvey Berman, the Men's Club Lifeline VP, says "we are always looking for volunteers" to help out only one day a month. The Men's Club provides all necessary training on all equipment. 
For more information, visit the Men's Club website, sccmensclub.com and click on the Lifeline link. Nellie Brock and Julie Wickersham staff the Lifeline office at 1002 Cherry Hills Blvd.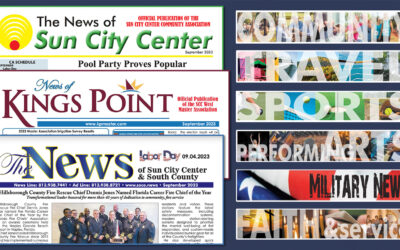 In this issue… Have some Pool Party fun, celebrate with the History Society, register for the Active Life Games, see why local volunteers rock, go Trail Blazing, learn why a local fire chief received a lifetime honor, support Adaptive Sports,...