Nan Ryan Showcases Her Quilting Talent
By Paula Lickfeldt
Nan Ryan moved to Columbia SC in 2006.  One of her friends was a quilter, and she encouraged Nan to start quilting. Nan's first project was an Iris that she finally finished after she moved to SCC.  Nan and her mother joined the "Sew What" quilting group at the Calvary Lutheran Church. Nan also joined the SCC Sew'n Sews club.
Nan is a fantastic quilter. In 2015, she decided that the fabulous quilts that are made by the Sew'n Sews needed to be showcased. Every month, she puts up a different quilt in the SCC library and the Visitor Center. Each month, Nan tries to put up a quilt depicting a theme, a holiday, a season, or a special event. The very first quilter to be featured was Lanna Wheatley's, a library volunteer. Her quilt was put up on June 15, 2015. The quilts are each on display for one month before Nan changes them.
Nan will become the president of the "Piece Makers" quilting club of Brandon in 2022, and she is a past president of the "Modern Quilters" of Sarasota.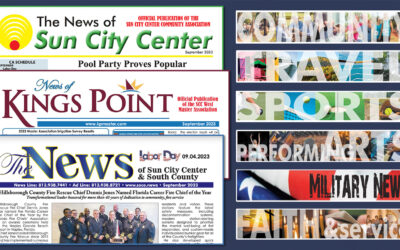 In this issue… Have some Pool Party fun, celebrate with the History Society, register for the Active Life Games, see why local volunteers rock, go Trail Blazing, learn why a local fire chief received a lifetime honor, support Adaptive Sports,...