New Freestanding ER in SCC
On May 11, Manatee Memorial Hospital debuted a new freestanding emergency room in our community: The ER at Sun City Center. The new ER, located in front of Walmart at 16504 S. U.S. 301, will expand access to emergency care 24 hours a day, seven days a week.
The ribbon-cutting ceremony provided attendees and media the opportunity to hear from Manatee Memorial Hospital's Leadership including Tom McDougal, Chief Executive Officer; Lynne Conlan, Executive Director, South Hillsborough Chamber of Commerce; and Hugh Miller, Chairman of the Board of Governors.
"We are honored to be expanding in Hillsborough County with the first freestanding emergency room for Manatee Memorial Hospital," CEO McDougal said, "By expanding our emergency services, we can better meet the needs of our growing communities and provide access to emergency care where it is needed. No matter what the emergency, the new ER at Sun City Center is equipped to handle everything from minor conditions to stabilizing treatment for major conditions such as heart attack and stroke."
This new freestanding ER will always be staffed by a physician and offers six exam rooms, three rapid medical exam spaces, and nine treatment areas, housed in a 10,884 square foot facility that also includes a full-service on-site laboratory, as well as x-ray, CT, and ultrasound imaging services. For more information, visit "manateememorial.com".
AT THE TOP: (l to r) Tammy Sloas, Jim Boyd, Gerri DeStefano, Hugh Miller, Tom McDougal, Cathy Cooper, Joe Hwang, Gary Whittington.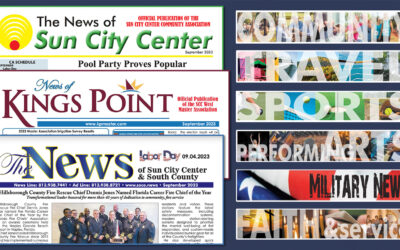 In this issue… Have some Pool Party fun, celebrate with the History Society, register for the Active Life Games, see why local volunteers rock, go Trail Blazing, learn why a local fire chief received a lifetime honor, support Adaptive Sports,...