Don't miss FallFest on October 16, browse the Art Club's latest creations, cruise the St. Johns River, sail on the Eagle, hit the target with a local Olympian, commemorate the anniversary of 9/11, discover some great places to eat Just Around the Bend, learn about the new Low Vision Club, ride to the rescue with the SCC Emergency Squad, get the facts on the Kings Point Master Association Board changes, trade serves with an athletic priest, read up on the Native History of North America, and tour the picturesque wonder of Sunsational Sedona, Arizona.
Then, be sure to check out the SCCCA Club News, Kings Point News, Military News, Sports, Arts, Faith & Service, and Community News sections to help you plan your month.
Read the October 2021 Issues of The News
COVID-19 Vaccine Info
Florida hospitals and county health departments have received hundreds of thousands of vaccine doses. More are coming. Learn how these will be distributed and get more information at the Florida Department of Health website, "floridahealth.gov."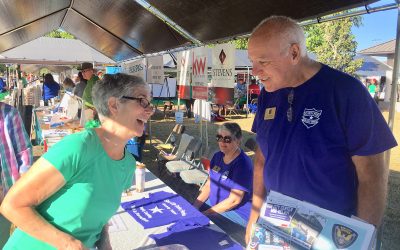 FallFest October 16: Don't miss it!Entertainment, Food, Art, Shopping, and a Health Fair                By Diane M. Loeffler Rain or shine, FallFest will take place on October 16. The day will begin at the gazebo with opening remarks, the flag raising, the...