Help save Hillsborough Waterways! Bring Your expired or unused medications to South Bay Hospital, 4016 Sun City Center Blvd. on Friday, April 5, 2019, from 9 – 12 p.m.
According to the Florida Department of Environmental Safety, expired or unwanted prescription and over-the-counter medications from households should never be disposed of by flushing them down the toilet or a drain. Although this method of disposal prevents accidental ingestion, it can cause contamination of Florida's aquatic environment because wastewater treatment systems are not designed to remove many of these medications. For more information, please contact Kristi Campbell at Home Instead Senior Care 813.684.1972.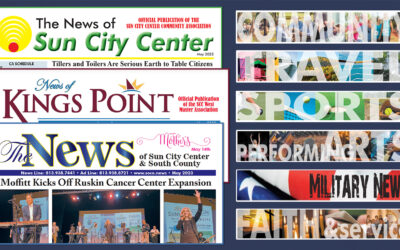 In this issue… Learn about the Moffitt Cancer Center kickoff, get an update on the Waterset Sports Complex, improve your green thumb with the Tillers and Toilers and the Elegant Gardeners, sail with the Cygnet Yacht Club, save the date for the...