The United Methodist Church of Sun City Center, 1210 Del Webb Blvd. West, welcomes back talented pianist and accordionist, Frank M. Cimino for a 7 p.m. Friday, May 3, 2019 concert. The concert is entitled, Frank Cimino and Musical Friends" Music genres performed will include pop, polka, patriotic, gospel and more.
Frank began his musical training in 1944. He has performed in both big and small dance bands for over 50 years. He has played throughout the Northeastern and Southeastern USA, as well as in Hawaii, Guam and Italy. 
He now performs pro bono, donating his time and talent to youth organizations, senior centers, churches, military veteran organizations and hospitals. Frank has an especially soft spot in his heart for veterans. When asked about it, he stated, "We can't thank our veterans enough for all their service and sacrifices".  It was Frank's uncle, a veteran himself, who helped launch his musical training and career back in 1944. 
Frank, an LSU graduate, now enjoys directing musical shows and "backing" talented singers and instrumental musicians, mostly in PA, DE and FL. During the May 3 concert, Frank will feature four very talented, local vocalists, several professional accordionists and a guitar and harmonica-playing songwriter. All will be backed by Frank and a professional drummer from the Naples, FL area.  It promises to be a fun, nostalgic and most enjoyable evening. Mark your calendar for this May 3, 7 p.m. concert.
A donation of only $5 will be requested at the door on the night of the concert. For additional information, please contact Kevin Goodenow, Concert Series Coordinator, at 813-362-0956.  To learn more about the United Methodist Church of Sun City Center, visit www.sccumc.com.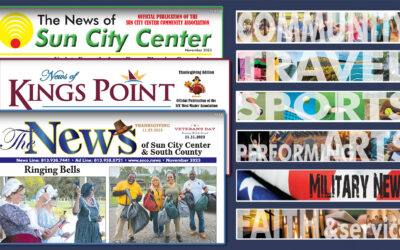 Discover what the Long Range Planning Committee is working on, find out how folks cruise around SCC, hear from the candidates for CA Board of Directors, ring bells with DAR, support local kids, laugh with the Pelican Players, travel to…