Pottery Club Wins Again at State Fair
By Kai Rambow
"I saw a program on PBS about ugly face jugs and I became inspired," reflected Terrie McNamara.  "I had also just broken a pot on the kiln and said 'Oh, my gosh, perfect teeth.' I wanted to do this as a challenge."  That personal challenge resulted in a first place ribbon at the state fair.
With something different, a huge jug, Sue Bederka and Jack Libby won a second place ribbon.  It took longer to get the detailing done, than it did to create the big jug.
Impressively detailed work by Michele Miller won her a first and second place ribbon.  "Whimsical is what I love doing.  The fairy house one can put a candle in there," enthused Miller.
The pottery club has once again competed well. Congratulations to all the winners.
IN THE PHOTO: From left to right, Terrie McNamara, Sue Bederka, and Michele Miller with winning pottery pieces and ribbons.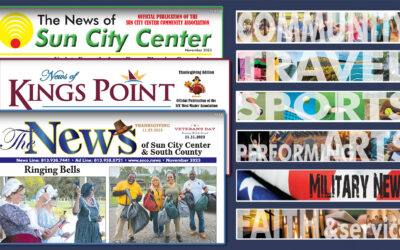 Discover what the Long Range Planning Committee is working on, find out how folks cruise around SCC, hear from the candidates for CA Board of Directors, ring bells with DAR, support local kids, laugh with the Pelican Players, travel to…