Beautifully restored classic cars, antiques, street rods, and resto-mods will be on display at Freedom Plaza's Golfview Terrace (819 Freedom Plaza Circle, SCC) from 11 a.m. to 3 p.m. on Sunday, February 17. Hosted by the Rotary Club of Sun City Center, the car show is a charity fundraiser to support local charities and students. Stop by Freedom Plaza to talk with classic car owners, meet classic car restoration experts, enjoy great music and hot food, and help us raise money for local caregivers and scholarships.
Classic car registration costs $10, which includes a food coupon worth $5. Public visitors are asked to make a $5 donation. Proceeds from donations, auctions, sponsorships, and the sale of food and beverages will benefit the SCC Samaritan's Alzheimer's Auxiliary, the Hillsborough Community College Certified Nursing Assistant (CNA) training scholarships, and the SCC Rotary Club's student scholarship programs. To date, we have funded two CNA scholarships and support for one new client for the Samaritans.
Pulled pork sandwiches, burgers, hotdogs, chips, and beverages will be for sale, as well as a selection of Indian snacks prepared by the Rotary club's members from India. Music from the 40s, 50s, and 60s is also on the menu, served up by local DJ Joey Ferrante. Tickets will be on sale for 50/50 raffles and auctions of items donated by local businesses, and tax-deductible donations will be gratefully accepted in cash or checks payable to the SCC Rotary Foundation.
We expect at least 100 classic cars will be on display, with many examples from the 1930s, 40s, 50s, and 60s. The Roamin' Oldies, a local classic car club, will be featured as will cars from a classic car dealership in Ruskin. A classic car restoration company from Tampa will also be displaying some of their recent projects and available to talk about the craftsmanship of restoring old cars to their original glory. The Golf Cart Shop of Sun City will be displaying some of their vehicles, as will a new car dealership and an RV dealer.
Bring your appetite, your love of old cars, and your checkbook to Freedom Plaza on Sunday, February 17th and support our valued local caregivers! A rain date of March 3 is ready in case of bad weather. Updates will be available by calling 813.777.2971 or online at www.rotarycarshows.com/suncitycenterfl.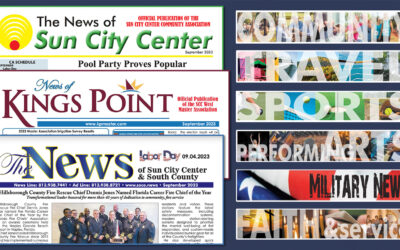 In this issue… Have some Pool Party fun, celebrate with the History Society, register for the Active Life Games, see why local volunteers rock, go Trail Blazing, learn why a local fire chief received a lifetime honor, support Adaptive Sports,...