From Hillsborough County Emergency Management
Hillsborough County has issued a "Safer-At-Home" order to help prevent the further spread of COVID-19. This applies to all residents within Hillsborough County, effective as of 10 p.m. on March 27, 2020. Residents do not require a pass or a letter to show to authorities. All residents are directed to stay at home as much as possible, except in those circumstances outlined below.
Under this order, residents may:
Go to the grocery, convenience or warehouse store.
Commute to and from work if your employer is an essential business or has ensured you can maintain at least 6 feet from your co-workers or customers.
Go to the pharmacy or other medical establishments to pick up medications and other healthcare necessities.
Go to medical appointments.
Go to a restaurant for take-out or drive-thru.
Care for or support a friend or family member in need.
Take a walk, run, or exercise outside, just remember to practice social distancing.
Walk your pets or take them to the vet.
There are some additional exceptions to the order. For more information, visit "www.hillsboroughcounty.org."
Note: Article updated March 26, March 27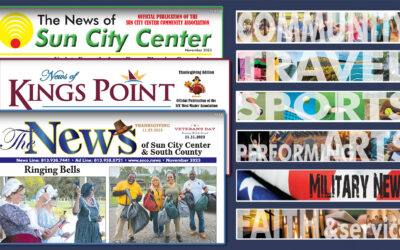 Discover what the Long Range Planning Committee is working on, find out how folks cruise around SCC, hear from the candidates for CA Board of Directors, ring bells with DAR, support local kids, laugh with the Pelican Players, travel to…