SCC Celebrates 60 Years
By Kai Rambow
Sun City Center recently celebrated its 60th anniversary.  The event, spread out over a Sunday afternoon, had the added bonus of reuniting people.  "It's been almost two years since we saw you," was a frequent comment.
The History Society displayed key events and photographs for people to view before entering Community Hall. Most people took their time to review the history of our community.
Larry Smith enthusing about the Sixty Years in Sun City Center, Florida book.
Before entering the hall, cupcakes, ice cream, and coffee were available.  Many enjoyed their treats while sitting with neighbors and friends. People were glad to be out and reconnect with others. A slide show played in the background and copies of the 60th anniversary book were available for purchase.  A continual stream of people enjoyed the occasion.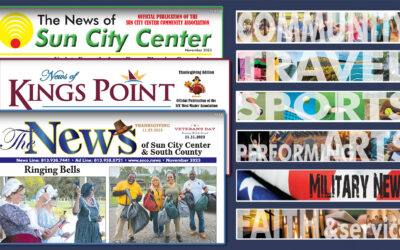 Discover what the Long Range Planning Committee is working on, find out how folks cruise around SCC, hear from the candidates for CA Board of Directors, ring bells with DAR, support local kids, laugh with the Pelican Players, travel to…