Run with the Hemingways, explore the new ER at Sun City Center, take a Night Out with the sheriff's department, see how SCC is Sprucing Up, celebrate Photo Club competition winners, get updated on the Long Range Plan, make some "Family Connections," have a "Heart to Hart," discover how Our Lady's Pantry is helping local veterans, run a Relay for Life, weigh in on community safety improvements, celebrate 95 years with Russ Merritt, learn how Rotary is improving our community, step back in time at the Plant Museum, meet our new community services aide, and celebrate local scholars.
Then be sure to check out the SCCCA Club News, Kings Point News, Military News, Sports, Arts, Faith & Service, and Community News sections to help you plan your month.
Read the September 2022 Issue of The News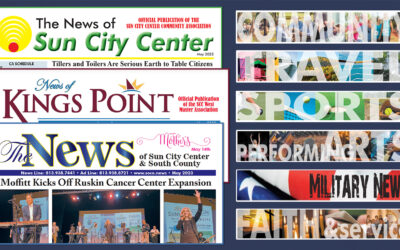 In this issue… Learn about the Moffitt Cancer Center kickoff, get an update on the Waterset Sports Complex, improve your green thumb with the Tillers and Toilers and the Elegant Gardeners, sail with the Cygnet Yacht Club, save the date for the...