By E. Adam Porter, Editor
Out of an abundance of caution, in these challenging times, for the good of the community, we have all come together to read sentences that begin like this entirely too much over the past month or so. Let's start over with what really needs to be said: THANK YOU.
Thank you to the phenomenal health care workers whose professional and personal lives have been turned upside down, who go to battle every day, fighting a war with, at least for now, no clear end in sight. You wield all the best weapons at your disposal: education, wisdom, wit, grace, patience, love, and an indomitable spirit. And you keep fighting even when you don't have everything you need. We love you. All of you. 
Thank you to our law enforcement, who put their lives and health on the line to take care of us, to help the sick and the scared, those who have been victimized, while also dealing with the belligerent, the ignorant, the afflicted, and the evil. Thank you to all the first responders who show up as fast as they can when we are in the worst moments of our lives, who offer aid and comfort in our times of fear and pain. And a special "thank you" to our all-volunteer Emergency Squad and Security Patrol. Each of you is amazing.
Thank you to our military for showing all of us the meaning of duty, honor, and sacrifice. Later this month, we were scheduled to gather, as we do every year, to commemorate those who gave the last full measure of devotion in service to our country and her people. Like many things in this time, that service has been canceled. But nothing will rescind the respect and appreciation we have for those who faithfully served. 
Thank you to our teachers who routinely go far and above the call of duty to educate and protect our children. Teachers who, in these past weeks, have been asked to do even more and found a way to make it work. Parents are working, kids are confused, worried, and scared; and no one knows quite how to use the new technology. They all come to you, at all hours of the day and night. You are therapists as well as educators, and now you are web developers, video producers, and tech support. We see you, teachers. 
Thank you to the tireless volunteers who have poured their talent, time, and effort into meeting so many needs, closing so many gaps, and creating so many smiles. Making and delivering food, sewing and distributing masks, building PPE, picking up necessities, looking for opportunities and always going above and beyond. 
Thank you to the staff, volunteers, and correspondents, and readers who help build The News every month. Thank you to all the journalists out there taking risks to deliver the story. You rarely get mentioned as "essential workers," but you're always there. In the middle of the protests, at the hospitals, out in the community, anywhere there's a story that needs to be told. 
Thank you to local, state, and federal decision-makers who are trying to do an impossible job, without precedent, working without a net. No matter what you do and when you do it, people will say it's too much or too little. Right now, the big question is "when." Like as not, it will be both "too late" and "too soon." You know that, and you have to choose anyway. 
Thank you, business owners. When you started your business, investing all that money, blood, sweat, and tears, you probably didn't have "Worldwide Pandemic" penciled in the margins of your business plan. And yet here we are. Some of you were forced to close. Others remained open. Nearly everyone has lost a catastrophic amount of business. Many of you have been forced to cut payroll, to lay off or furlough workers. I see you there, sitting up late, wondering how they're doing, and how you're going to get through this. 
This is a good spot to offer a huge THANK YOU to our advertisers. Some of you have been with The News since the beginning. Others came along later and stuck with us. Many of you have become our friends. You represent lifelong dreams, private practices, family businesses, and big corporations, the "backbone of America" and the "infrastructure we can't live without." To us here at The News, you represent the resources that allow us to do what we do: Deliver positive news, fun opportunities, and current events to the residents of Sun City Center & South Hillsborough County. Thank you for helping us make this happen. 
Thank You to our "essential workers." I'm guessing, about six weeks ago, you did not realize just how "essential" you are. But we knew. We have food to eat because of you. Our family and our pets are safe and healthy thanks to the risks you are taking every day. Our homes are pest-free, our mail is in the box, our power is on, our trash is gone, and our A/C is working. It's Florida. It's May, and summer's coming… There is no price that can be placed on working air conditioning. To all of you "essential" workers, listen, that word just doesn't cover what you mean to us. 
Speaking of essential people, Thank You to our artists, musicians, writers, and entertainers who make life – especially life in quarantine – sweeter, brighter, and better. By sharing your talent and hard work, you have given us a priceless gift. Thank you for immersing us in beauty, awe, and transcendence. Thank you for entertainment, for laughs, for illustration, for understanding… for a story to share, a melody to sing, and the rhythm to dance.
Finally, thank you to everyone reading this. The opportunity to share good news is not something that comes along often in the media business. Being part of a positive community news publication is a unique blessing, and I'm grateful.
Be well. Stay safe. Thanks for reading.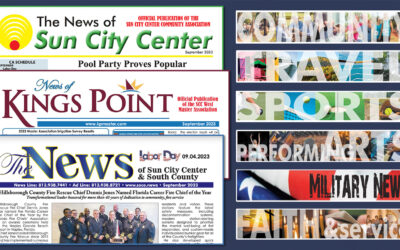 In this issue… Have some Pool Party fun, celebrate with the History Society, register for the Active Life Games, see why local volunteers rock, go Trail Blazing, learn why a local fire chief received a lifetime honor, support Adaptive Sports,...