Visit the Arcadia Rodeo, laugh and learn with Phoney Baloney, marvel at the blue Angels, enjoy Gazebo concerts, celebrate local volunteers, appreciate Andy Ledoux, take a Nature Break, join a grief support group, explore the phenomenon known as pareidolia, shop the marketplace at St. John, get Pickin' again, and meet local photographer Kai Rambow.
And be sure to check out the SCC Club News, Kings Point News, and Community News to help you plan your month.
Read the April 2021 Issue of The News
Florida hospitals and county health departments have received hundreds of thousands of vaccine doses. More are coming. Learn how these will be distributed and get more information at the Florida Department of Health website, "floridahealth.gov."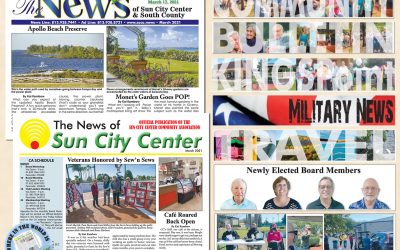 In this issue… Hear from the newly elected SCCCA Board Members, see who helped SCC residents get their COVID-19 vaccine, get away for the day at Apollo Beach Preserve, mark your calendars for a very special livestream theater event, enjoy a...