We share the holiday spirit of giving with Toys For Tots, see how the Shriners plan to "Save the Day" for some deserving local kids, relive the scary fun of the Ghoulish Golf Cart Parade, explore the holiday gifts and decorations at the Nearly New Christmas Shop, get a bird's eye view of the SCCCA's building plans, and hear from the CA Board candidates.
Then, we get some holiday season safety tips from our very own Deputy Merry, catch up with the RN Club, pitch in to support the UMC's Alzheimer's Mission, enjoy some BBQ & Blues at the Firehouse, meet some interesting neighbors, and celebrate a random act of kindness, before cruising off to majestic Iceland and touring the world with friends who took The News across the globe.
And, as always, be sure to check out the Club News and Community News sections to help you plan your month.
Read the December 2020 Issue of The News
Florida is in Phase 3. Get the latest updates.
Testing Centers in Hillsborough County
Hillsborough County has a new testing reservation line. Call 888.513.6321 to make an appointment for a test at any of the seven county testing locations, including three in South County:
Redeemer Lutheran Church, 701 Valley Forge Blvd., Sun City Center
Wimauma Opportunity Center, 5128 SR-674
SouthShore Community Resource Center, 201 14th Ave. SE, Ruskin
Suncoast Community Health Centers, 313 S. Lakewood Drive, Brandon
Lee Davis Community Resource Center, 3402 N. 22nd St., Tampa
Plant City Community Resource Center, 307 N. Michigan Ave., Plant City
Raymond James Stadium, 4201 N. Dale Mabry Highway, Tampa
Reservation call center hours are weekdays, 8 a.m. to 5 p.m. Individuals arriving without an appointment will not be tested. You must have your confirmation code, as well as a photo ID with the name and date of birth of all persons being tested, when you go for the test.
For further testing information, visit "www.hillsboroughcounty.org" and search "getting-tested". In the results, scroll down to "Testing & If You're Sick".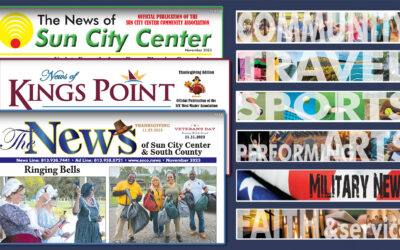 Discover what the Long Range Planning Committee is working on, find out how folks cruise around SCC, hear from the candidates for CA Board of Directors, ring bells with DAR, support local kids, laugh with the Pelican Players, travel to…