The Dog Days Poetry Workshop
FREE, Space is limited. Reservations suggested.
Saturday, August 24, 9:30am – 11:00am
Firehouse Cultural Center, 101 1st Ave NE, Ruskin FL
The Dog Days Poetry Workshop will allow participants to craft and respond to poems that "beat the heat." Through the use of intensely frigid imagery, writers will get a short respite from August in Florida. Led by Poet John Davis Jr. This workshop is for teens and adults.
Davis is a seventh-generation Floridian whose poetry has been published in dozens of literary venues internationally. His poems have been repeatedly nominated for the Pushcart Prize and other laurels, and his books, Middle Class American Proverb (Negative Capability Press, 2014) and Hard Inheritance (Five Oaks Press, 2016) have also been critically acclaimed. He teaches English, Literature, and Creative Writing for colleges in the Tampa Bay Area, and resides in Riverview.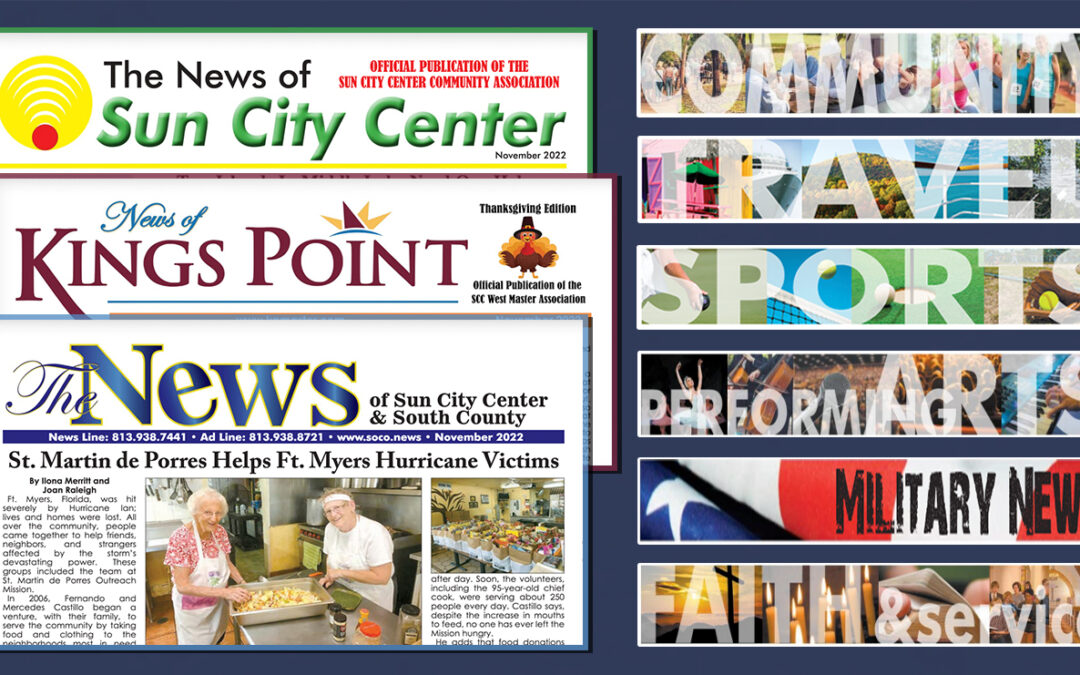 As we turn our clocks back (November 6) and look forward to fall, we hope you are doing well and excited about another beautiful month here in Sun City Center and South Hillsborough County. In this issue… After Hurricane Ian, our...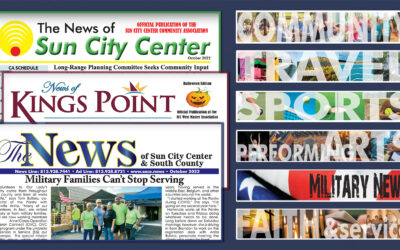 First and foremost, all of us at The News hope that all of you reading this came through Hurricane Ian healthy and safe. Our News team fared well, considering. A few trees and power lines down, loss of power, and the general inconveniences of temporarily...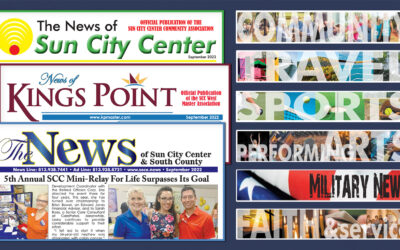 In this issue… Run with the Hemingways, explore the new ER at Sun City Center, take a Night Out with the sheriff's department, see how SCC is Sprucing Up, celebrate Photo Club competition winners, get updated on the Long Range Plan, make some...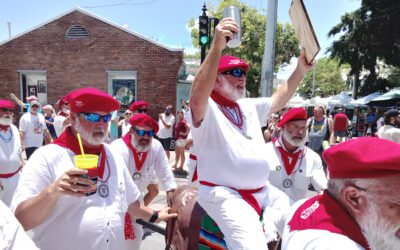 Local Lookalikes Run With the HemingwaysBy Kai Rambow "Always do sober what you said you'd do drunk. That will teach you to keep your mouth shut." – Ernest Hemingway"There might have been some alcohol involved," recalled Gary Mull.  Mull...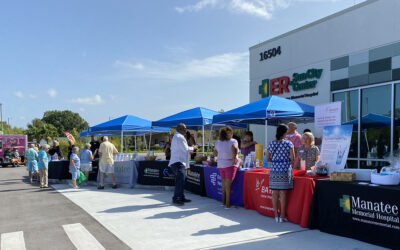 Community Expo Showcases ER at Sun City CenterBy Bob Sanchez The ER at Sun City Center hosted a Community Expo to show off the brand-new facility to the public. The free-standing building is an extension of Manatee Memorial Hospital....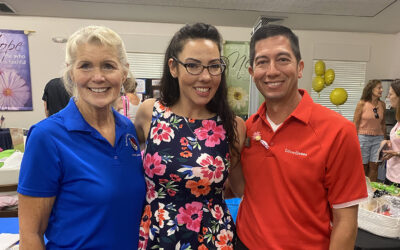 5th Annual SCC Relay for Life Surpasses Goal By Bob Sanchez The 5th annual SCC Mini-Relay for Life drew hundreds to St. Andrew's Presbyterian Church on July 29 to raise money in the fight against cancer. The event raised $16,757.39, easily...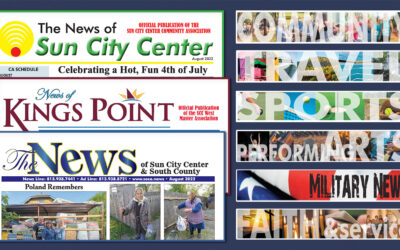 In this issue… Learn how volunteers here and abroad are helping Ukrainian refugees, meet some local teens investing in our community, catch the raptor show at the Florida Aquarium, celebrate our Independence, raise a nesting pole with the...