Celebrate outstanding community volunteers; read the highlights from the SCCCA Membership Meeting; save the date for the Long Range Planning Committee Report and the Hurricane Preparedness Meeting; celebrate an outstanding woman who left a legacy all of us can aspire to; learn how Tampa Zoo is helping local sea life; meet the women of the ALOT tennis clubs; and learn the rules of the road for golf carts, bicycles, and pedestrians.
Check out the Entertainment Corner, Club News, SCC Bulletin, Kings Point, Community News, Dance, Military News, Faith & Service, Arts, Sports, Travel, and South County Events sections to help you plan your month. Then travel with your friends and neighbors who carried The News around the world.
Read the February 2020 Issue of The News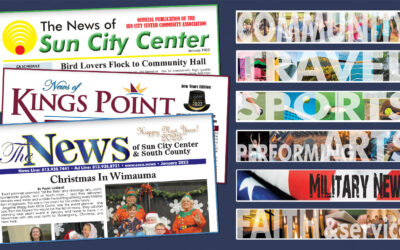 In this issue… Discover why bird lovers flocked to Community Hall, save the date for the Volunteer Picnic on February 15; cruise with the Holiday Cart Parade, see how folks celebrated Christmas in Wimauma, enjoy the Shrine Christmas party, hang...