SCC honors its veterans, especially those comrades we lost in the past year. We get to know Bob's Vets, meet the Pickleball players who did SCC proud in international competition, and hang out with puffins in Newfoundland. Find out about the South Shore Round Table, meet the new chief of the SCC Security Patrol, and learn how to be better prepared in case of a hurricane.
SCC CA Members and guests, don't miss the July 4 breakfast and pool party. Get the facts on the new Kings Point resident club fee. Learn what's happening with backflow valves in the community. Get to know the Emergency Squad EMTs, learn what do they do, and discover how can you help.
Check out the SCC Bulletin, Kings Point, Community News, Dance, Military News, Faith & Service, Arts, Sports, Travel, and South County Events sections to help you plan your month. And travel with your friends and neighbors who took The News around the world.
Read the July 2019 Issue of The News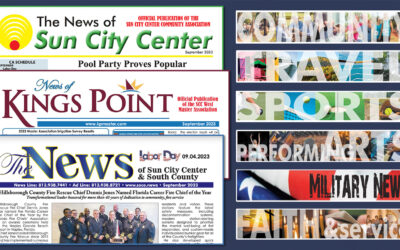 In this issue… Have some Pool Party fun, celebrate with the History Society, register for the Active Life Games, see why local volunteers rock, go Trail Blazing, learn why a local fire chief received a lifetime honor, support Adaptive Sports,...