The new South Hillsborough Veterans Clinic welcomes patients, the 75th Anniversary of D-Day is commemorated in a very special way, and employees at South Bay Hospital bring their children to work for the day. Save the date for July 4 fun, enjoy the pool, and discover an easy way to care for SCC's lakes.
Plus, get an update on the latest Mobility Study, get to know the SCC Poker Club and Potters Wheel Club, celebrate a century of life with "Howdy," meet a local Creative Person, discover another way to support your Emergency Squad, tour beautiful Newfoundland, and learn some weather terminology just in time for hurricane season!
Check out the SCC Bulletin, Kings Point, Community News, Dance, Military News, Faith & Service, Arts, Sports, Travel, and South County Events sections to help you plan your month. And travel with your friends and neighbors who took The News around the world.
Read the June 2019 Issue of The News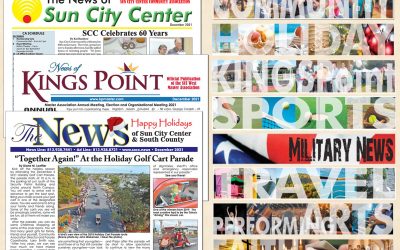 In this issue… Ring in the December holidays with the annual Golf Cart Parade, celebrate 60 Years of SCC, set sail on America's Tall Ship, get to know some local clubs, remember a tireless volunteer who made a big difference, meet a local war...